Boat details
(n°757)
Boat details
(n°757)
FRA-34b
Essentials
Designer
Britton Chance Jr. (USA)
Builder
Hermann Egger, Egger H., St.Aubin (SUI)
Material
Mahogany, diagonal carvel, laminated
1st certificate issued
20-06-1969
Original boat name
Cybèle III
Original country
SUI
Original sail number
34b
Current location
Moniga del Garda, Lake of Garda (ITA)
5.5 ITA 72 "Cibele" - deckview : Prepared for the next regatta
(credits : F. Cavazza)
Added by Kaspar Stubenrauch
on 2023-05-25
Photo Gallery (18)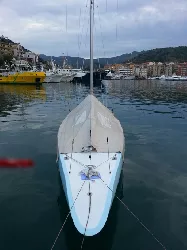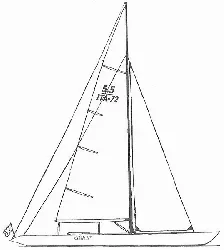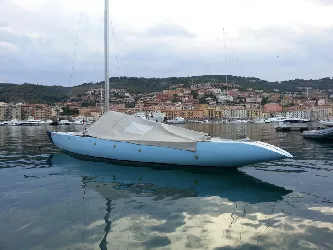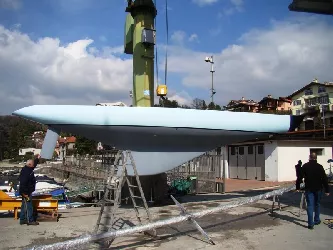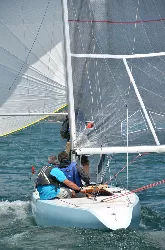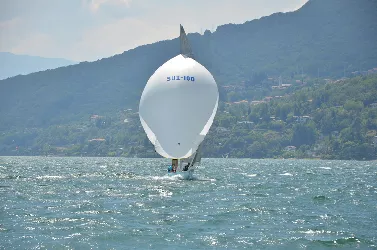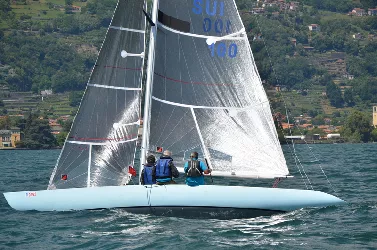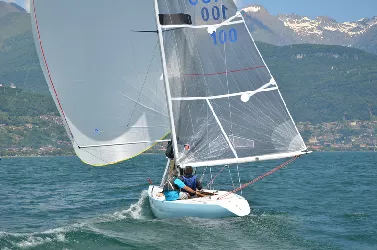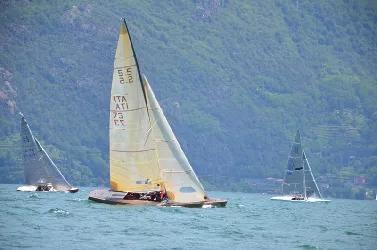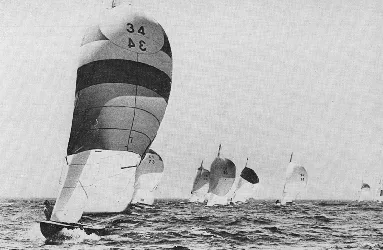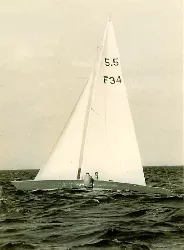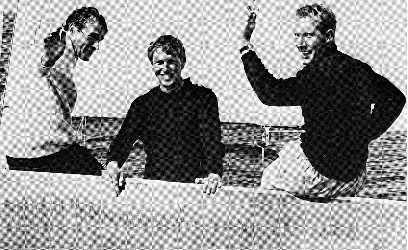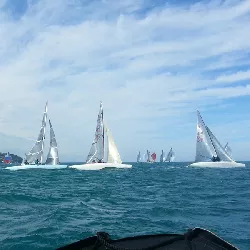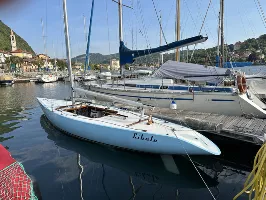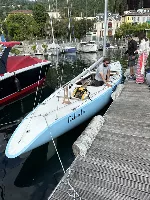 Notes (2)
5.5 ITA 72 "Cibele" - back in Italy
25-05-2023
The boat has found a new home and has come back to Italy. She will be racing the 5.5mR 2023 World's, in Porto Cervo.
F-34, first and third Cybèle, same number
06-11-2014
Third Cybèle F-34 was the 1969 World 5.5 meter champion. In the photos of this boat, there is one from the World 5.5 Championhsip 1969 sailed in Sandhamn (photo is from Gordon Ingate who was there). The photo tells also that this is not F-38 the second Cybèle. F-38 have different bow and counter. Also there is no remarkable 'chine' visible like F-38 has. There are two F-34, a & b. Cybèle first and third and third is the world champion.
The first Cybèle was a Britton Chance Jr. design #27a from year 1965. In Chance 5.5 list is only one Cybèle. Maybe Jean E. Le Guillou (father of Jean-Marie) modified the design 27a and had Cybèle third built by Egger for 1969 World Championship.
Two articles in the Swedish Sailing magazine Till Rors 16/1967 tell that 1967 built first Cybèle sailed in Scandinavia:
"The French 5.5 win in Sandhamn. The French win the three races for KSSS 5.5m Trophy in Sandhamn July 23-25. The winning boat Cybèle is designed by Britton Chance, built in Switzerland and represents Club Nautique de la Baule." In the photo Cybèle sails with sail letters F-34 in the spinnaker and the mast has running backstays. "Other boats present were Fram III, Fung Shui, Twins XIV, Ca-Ro VI and John B4 besides the Swedish boats."…."Cybèle was sailed by Jean-Marie (26), Thomas (22) and Nicolas (20) Le Guillou and they also won another KSSS Trophy."
Next was Coppa d'Italia. "Crown Prince Harald won and sailed a series 1-1-2-1-2. The new French Chance construction Cybèle with young brothers Le Guillou took silver with a series 3-2-1-4-2. The Swedish Carioca II was third. Twins XIV of Max Oberti was fourth and the Finnish Ca-Ro VI was fifth. John B4 of Bobby Symonette, Web IV of Berntsen had to cancel racing. West German Herbert Scholl did not get his new Jussi Nemes (Vator) built boat (Corona) in time. …. The French Cybèle will be dangerous when the young brothers are more trained and learn to handle the spinnaker. …… Results: 1) Norway, Crown Prince Harald, Fram III N-27, 28.75 p, 2) France, J. Le Guillou, Cybèle (1) F-34, 22.25 p, 3) Sweden, P. Fredell, Carioca II S-41, 20 p, 4) Italy, Max Oberti, Twins XIV I-49, 17.25 p, 5) Finland, R. Jansson, Ca-Ro VI L-25, 11p."
Another article in the Swedish Sailing magazine Till Rors 16/1969 tells:
"Cybèle is new this year (1969), to build a new 5.5 this year is quite fantastic. The boat is designed by Britton Chance Jr. ..." In the same article is two photos of F-34. In the photo of the fleet Cybèle is leading the reaching leg with number 34 in the spinnaker. Text to the photo is:"The world champion boat, French Cybèle, is designed by Britton Chance Jr. 1969 and is owned by J. E. Guillou. (Jean Guillou, the father of Jean-Marie and Nicolas). The nearest boats behind are American Nemesis, Swedish Tomatoe and Carioca II.
World Championship 1969 Sandhamn
1st F-34 Cybèle (3), Jean-Marie & Nicolas Le Guillou, Daniel Tassin (3-1-6-6-3-1-1) 23.1 pts
2nd S-51 Wasa IV, Ulf Sundelin (15-5-3-1-1-4-4-5) 31.7 pts
3rd S-50 Tomatoe, Thomas B. Nathhorst, Håkan Lindquist, Claes Boje (1-8-4-3-11-3-3) 39.1 pts
4th S-40 Wasa III, Sune Carlsson, Olle »Bull» Karlson, Börje Larsson (4-7-2-8-2-6-2) 41.7 pts.
The next following years Jean-Marie was involved in the French America's Cup Challenge. 1972 he sails in Kiel Olympic yachting and is fourth in the Dragons. Jean-Marie is born 1941.
Le Guillou family had several 5.5s. The first, early sixties, was Ardilla F-18 an Ohlson design. Then 1965 WC and 66 WC Jean-Marie sailed Lord Jim F-28 and was 12th and 17th.
This was not all. Le Guillou story continues. 1970 Jean-Marie and his brothers win also the European Championship! What a great story of the family Le Guillou.

Document library (1)
Document
Size
By / When
5.5 Z 100
Rating certificate - provided by F. Bouvier
555 Kb
555 Kb
Ownership history (7)
Sail#
Name
Owner
FRA-34b
"Cybèle III"
SUI-100
"Mouette VII"
SUI-100
"Minouche"
AUT-6
"Shangri-La"
ITA-72
"Cybèle"
SUI-100
"Cybèle"
ITA-72
"Cibele"
Results History (12)
Year
Rank
Race / Location
Skipper
Added by, on
Links Library (0)