Boat details
(n°287)
Boat details
(n°287)
SUI-64
Essentials
Designer
C. Raymond Hunt (USA)
Builder
Freddy F. Portier, Yachtwerft Portier AG, Meilen (SUI)
Material
Mahogany, carvel planked
1st certificate issued
01-09-1964
Original boat name
La Perle
Original country
SUI
Original sail number
64
Current location
La Poule - La Perle Z-64 : La Poule later La Perle after launching at Portier in Meilen
(credits : Jürg Stocker archives)
Added by Matti Muoniovaara
on 2010-11-09
Photo Gallery (1)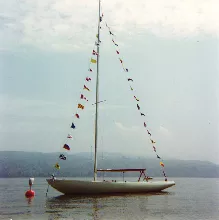 Notes (2)
La Perle Z-64
09-11-2010
François Bouvier writes true, it's Pearl. Z-64 is originally La Perle (owner A. Lutz, certificate 1964) and was built in Portier in Meilen at the Lake Zürich. The Dutch boat La Perle NED-6, which was destroyed 2002 in a fire, could be this boat.
Chick or Pearl?
04-07-2009
In the rating certificates of 1965 and 1973, SUI 64 is named " La Perle", instead of "La Poule", given in races results.
Wich view of the same, hem, object, is the good one?

Document library (1)
Document
Size
By / When
934 Kb
934 Kb
La Poule - La Perle Z-64 : La Poule later La Perle after launching at Portier in Meilen
(credits : Jürg Stocker archives)
Added by Matti Muoniovaara on 2010-11-09
Ownership history (3)
Sail#
Name
Owner
SUI-64
"La Perle"
SUI-64
"Poule"
NED-6
"La Perle"
Results History (0)
Links Library (0)