Boat details
(n°271)
Boat details
(n°271)
SUI-56
Essentials
Designer
Pierre Noverraz (SUI)
Builder
Louis Plojoux, Corsier-Port, Genève (SUI)
Material
Mahogany, carvel planked
1st certificate issued
01-01-1963
Original boat name
Michel
Original country
SUI
Original sail number
56
Current location
Rolle, Lake Geneva (SUI)
5.5 SUI 56 - on her trailer : Ready to travel
(credits : PetitPierre)
Added by Kaspar Stubenrauch
on 2021-06-08
Photo Gallery (3)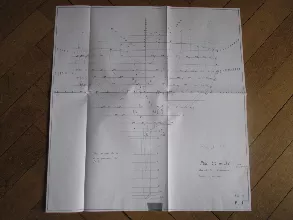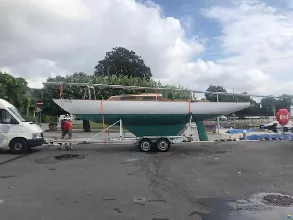 Notes (4)
5.5 Z 56 "Michel" - a Pierre Noverraz design
09-11-2019
Michel Noverraz reports: The boat Z-56 was designed by P. Noverraz in 1962 and built in 1963 by Corsier-Port, for P. Noverraz and M.J. Rossi, the first boatname being "Michel".
5.5 Z-52(?) "Michel" - in 1963
17-02-2017
The list of the Swiss Championship 1963 is featuring "Michel", owned by Noverraz & Rossi. However with sailnumber Z-52, a number already given to the Aga Khan. Maybe he had given some sails to "Michel", for that Regatta...
Original Sailnumber for 5.5 NED 13?
17-02-2017
We are searching for the origin of NED 13, as the connection to SUI 56 cannot be maintained. With an LoA of 9,558m the boat does not fit the LoA of SUI 56, which is 9,467m. The entries for SUI 56 and NED 13 will therefore be separated.
More
Document library (2)
Document
Size
By / When
2.05 Mb
2 Mb
119 Kb
119 Kb
5.5 SUI 56 - on her trailer : Ready to travel
(credits : PetitPierre)
Added by Kaspar Stubenrauch on 2021-06-08
Ownership history (5)
Sail#
Name
Owner
SUI-56
"Michel"
SUI-56
"Tamara"
SUI-56
"Tegel"
SUI-56
"Tegel"
SUI-56
"Qi"
Results History (0)
Links Library (0)