Boat details
(n°141)
Boat details
(n°141)
SWE-37
Essentials
Designer
Einar Ohlson (SWE)
Builder
Oscar Schelin, Kungsörs Båtvarv AB (SWE)
Material
Mahogany, carvel planked
1st certificate issued
24-06-1963
Original boat name
Rush VII
Original country
SWE
Original sail number
37
Current location
Lake of Starnberg (DTYC), Bavaria (GER)
5.5 GER 64 "Rush VII" - on Lake Starnberg : "Enoshima Trophy" 2022
(credits : Martin Eisl)
Added by Kaspar Stubenrauch
on 2022-12-18
Photo Gallery (18)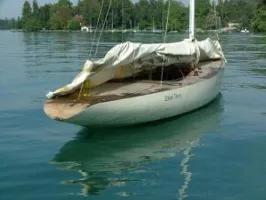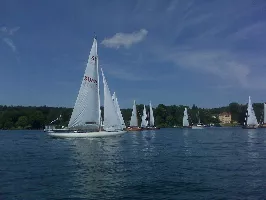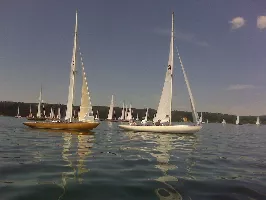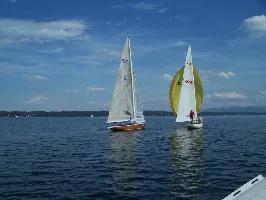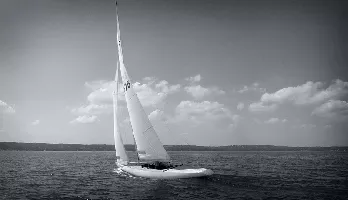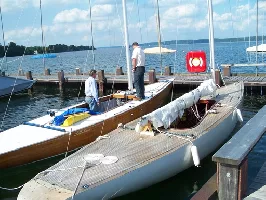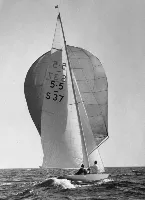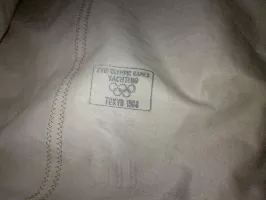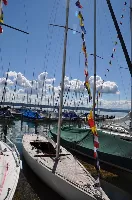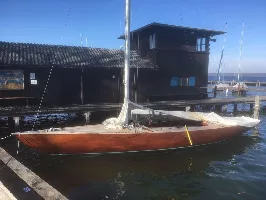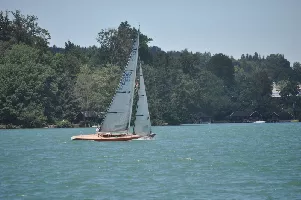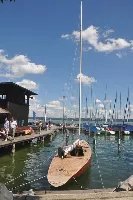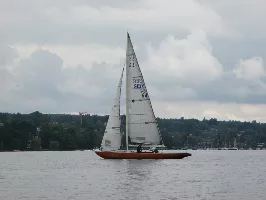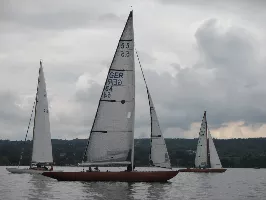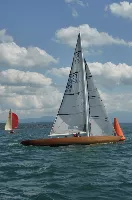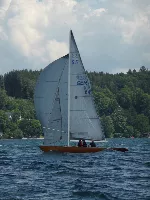 Notes (4)
Three man keelboat selection in Travemunde 1967
06-02-2018
In the documents I read SWE 037 raced as 5.5 in Travemunde's trials fro new olympic keelboat, as comparison. I disagree. The boat that raced in Travemunde was a Luder's design named "John B" helmed by B. Simonette; irrespective of the boat's name the sail number shown in Travemunde was BA 1.
5.5 GER 64 "Rush VII" - refit completed
13-05-2009
"Rush VII" has undergone a refit process during wintertime and owner & crew are now eagerly waiting to race against her 1964 Olympic rival "Subbnboana", which is also based on the Lake of Starnberg. Additionally it is planned to arrange race meetings with the other "Enoshima boats" during this season.
"Rush VII" 5.5 S-37
13-11-2007
The boat has been built by Kungsörs Batvarv in 1963
More
Document library (3)
Document
Size
By / When
2.03 Mb
2 Mb
826 Kb
826 Kb
860 Kb
860 Kb
5.5 GER 64 "Rush VII" - on Lake Starnberg : "Enoshima Trophy" 2022
(credits : Martin Eisl)
Added by Kaspar Stubenrauch on 2022-12-18
Ownership history (5)
Sail#
Name
Owner
SWE-37
"Rush VII"
SUI-75
"Surprise"
SUI-75
"Surprise"
GER-64
"Rush VII"
GER-64
"Rush VII"
Results History (3)
Year
Rank
Race / Location
Skipper
Added by, on
Race :
World Championship /

Location :
Seawanhaka, USA
Skipper :
Lars "Lasse" Thörn
Race :
Olympic /

Location :
Tokyo, Japan
Skipper :
Lars "Lasse" Thörn
Race :
Settimana di Genova /

Location :
Genua
Links Library (2)
16-08-2018
(Reference to Kungsörs Båtvarv AB)
17-04-2020