Boat details
(n°100)
Boat details
(n°100)
SUI-31
Essentials
Designer
François Camatte (FRA)
Builder
Louis Plojoux, Corsier-Port, Genève (SUI)
Material
Mahogany, carvel planked
1st certificate issued
01-01-1958
Original boat name
Baccouni
Original country
SUI
Original sail number
31
Current location
SUI 31 Bacouni : Sailing off Morges
(credits : G.Bouvier)
Added by François Bouvier
on 2007-11-11
Photo Gallery (1)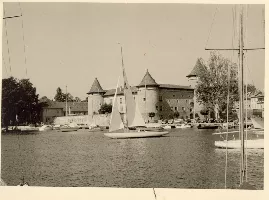 Notes (5)
5.5 Z 31 "Baccouni" - designed by F. Camatte
08-05-2022
And, the final statement from Francois Ramoger: "...For Z31 I discussed with Françoise Copponex, and she confirmed, that it is a Camatte and not a Copponex design. Same conclusion with the archive of Gerald Béchard, and in the annual registration of the Society Nautique de Genève. Case closed.

5.5 Z 31 - designed by F. Camatte or H. Copponex
08-05-2022
Input from Francois Ramoger: "...I have archives ... also a 1957 design and photo under construction at Corsier Port, of a 5.5m for Franck L'Huillier: But the name of the boat is not written on the design, as often. After a long search it turns out that she is Baccouni Z31. It's a mistake to attribut this design to Copponex, in the data base of the 5.5m. The design is due to François Camatte...."
This comment is supported by a Swiss archive list, stating F. Camatte as the designer and the Aisher Questionnaire, also staing F. Camatte. However the measuring certificate in the document section is stating H. Copponex. More input welcome.
5.5 Z 31 "Baccouni" - built in 1957/58
08-05-2022
Z 31 was built in 1957/8, Z 39 in 1960, for the same owner.
More
Document library (3)
Document
Size
By / When
559 Kb
559 Kb
842 Kb
842 Kb
484 Kb
484 Kb
SUI 31 Bacouni : Sailing off Morges
(credits : G.Bouvier)
Added by François Bouvier on 2007-11-11
Ownership history (2)
Sail#
Name
Owner
SUI-31
"Baccouni"
SUI-31
"Lotus"
Results History (0)
Links Library (0)