Boat details
(n°797)
Boat details
(n°797)
MEX-2
Essentials
Designer
Builder
Material
Wood, carvel planked
1st certificate issued
00-00-0000
Original boat name
?
Original country
MEX
Original sail number
2
Current location
5.5 MEX 2 - in 1968 : A still image from the film shown in the Link section
(credits : Not disclosed)
Added by Kaspar Stubenrauch
on 2022-01-10
Photo Gallery (1)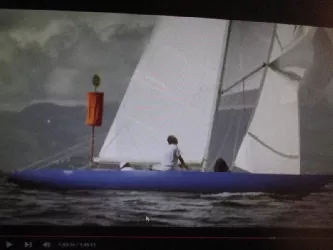 Notes (1)
5.5 MX 2 in 1968 - original or alias?
08-01-2018
The boat was helmed by Carlos Braniff with crew Antonio Recamier and Iker Belausteguigoitia.
The question on boat details (design, Yard, year) remains open; also, if it was built for Mexican ownership or was imported or chartered. Any hint is welcome.
Document library (0)
5.5 MEX 2 - in 1968 : A still image from the film shown in the Link section
(credits : Not disclosed)
Added by Kaspar Stubenrauch on 2022-01-10
Ownership history (0)
Sail#
Name
Owner
Results History (0)
Links Library (2)
08-01-2018
(A report & result details on the Olympic regatta )
08-01-2018
(5.5 MX 2 can be seen as from 01:03:17)