Boat details
(n°746)
Boat details
(n°746)
USA-94
Essentials
Designers
Warren Muir (Australia)
Ben Lexcen (AUS)
Builder
Harry C. "Buddy" Melges, Melges Boat Works, Zenda, Wisconsin (USA)
Material
GRP
1st certificate issued
03-04-1989
Original boat name
Lana
Original country
USA
Original sail number
94
Current location
Bellerive, Lake of Geneva (SUI)
5.5 SUI 202 : Bellerive, Lake of Geneva
(credits : F. Bouvier)
Added by Kaspar Stubenrauch
on 2020-11-02
Photo Gallery (1)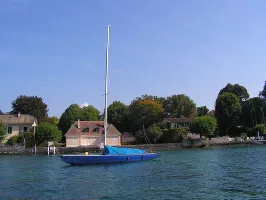 Notes (3)
5.5 US 94 "Lana" - MC
26-05-2020
The measuring certificate of 5.5 SUI 202 is showing 5.5 US 94 as the original boat. The boat was sold to Y. Anselmetti in 1999.
5.5 US-94 - Was she exported to Switzerland?
27-01-2018
The boat was completed in 1989. The question, if she was sailed with US-sailnumber short time only and then exported to Switzerland, to become Z-171, has not resulted positively. Both boats sailed against each other during the World's in 1990.
5.5 USA 94 "Lana" - missing
19-09-2017
Any hint is very welcome, to determine the actual location of this boat and her history.
Document library (1)
Document
Size
By / When
5.5 SUI 202 - MC
The first certificate issued in Switzerland, for 5.5 SUI 202 "Lana"
281 Kb
281 Kb
5.5 SUI 202 : Bellerive, Lake of Geneva
(credits : F. Bouvier)
Added by Kaspar Stubenrauch on 2020-11-02
Ownership history (2)
Sail#
Name
Owner
USA-94
"Lana"
SUI-202
"Lana"
Results History (0)
Links Library (0)