Boat details
(n°698)
Boat details
(n°698)
AUS-17
Essentials
Designer
Alfred Edward "Bill" Luders Jr. (USA)
Builder
Minter & Balkwell , (AUS)
Material
Honduras mahogany, carvel planked
1st certificate issued
00-02-1964
Original boat name
Jabiru
Original country
AUS
Original sail number
17
Current location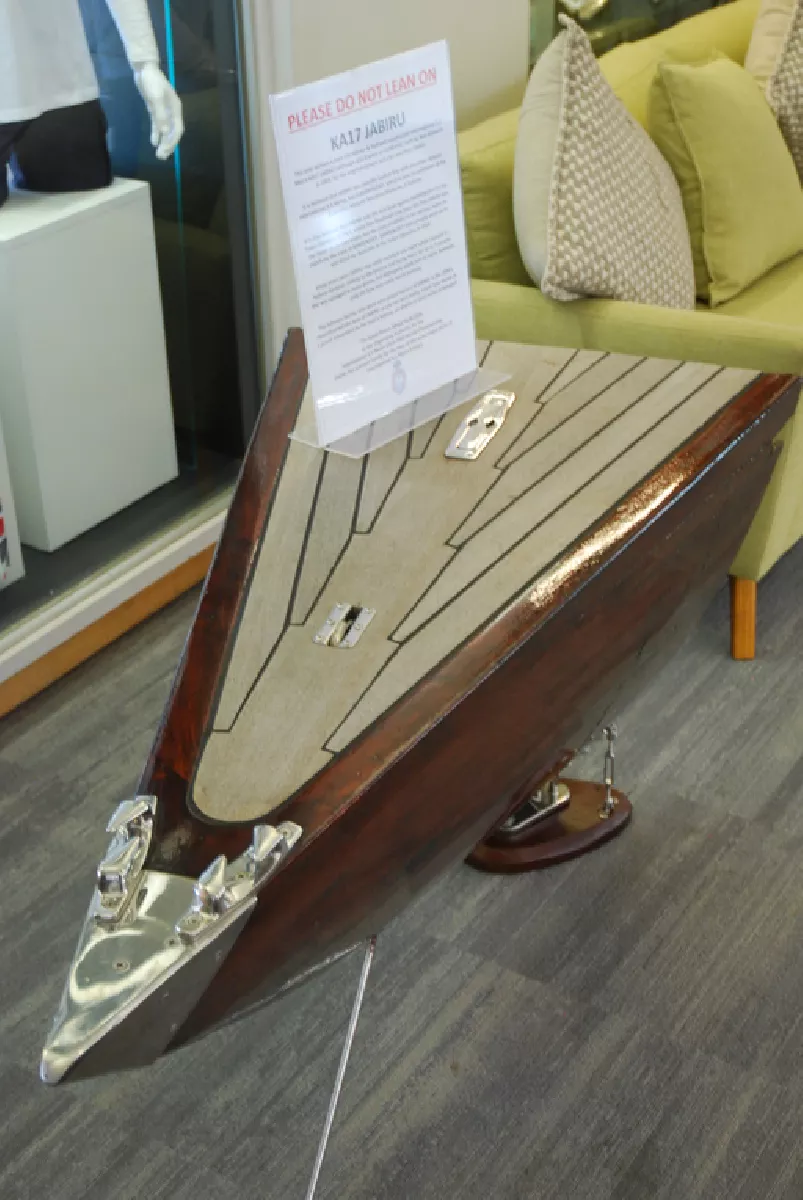 5.5 AUS 17 - Jabiru : the bow of Jabiru in the entrance of the RPAYC in Newport, NSW
(credits : Thies Först)
Added by THIES-HENDRIK FÖRST
on 2020-01-25
Photo Gallery (21)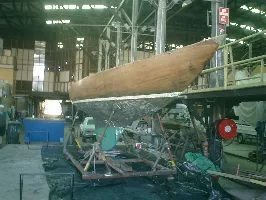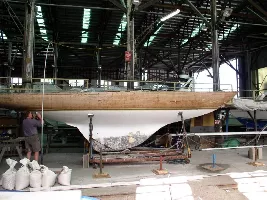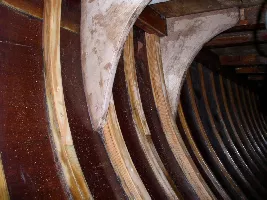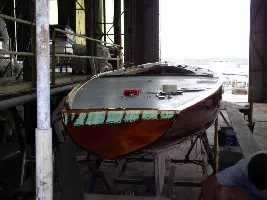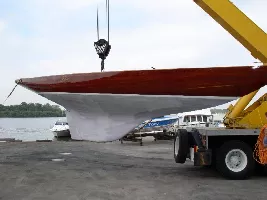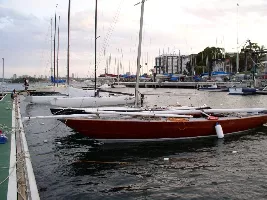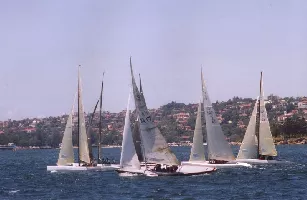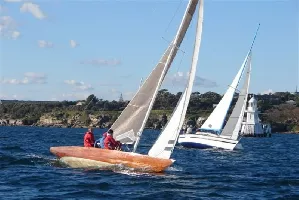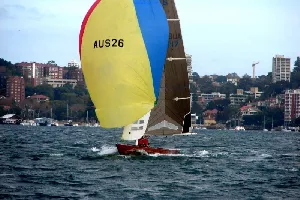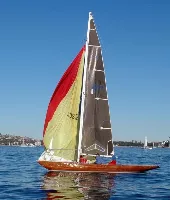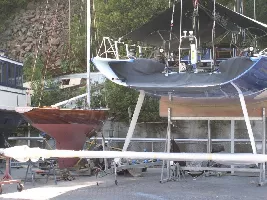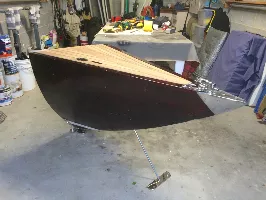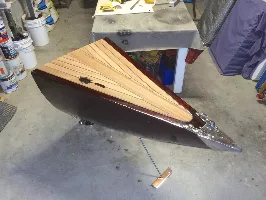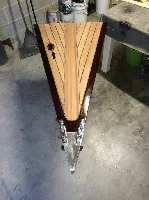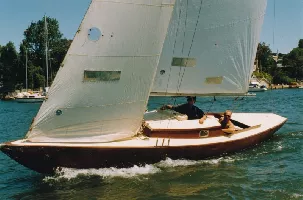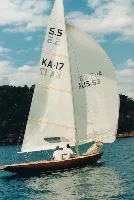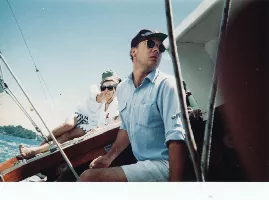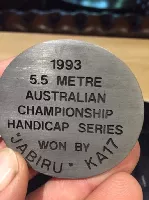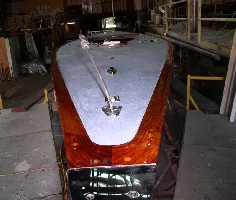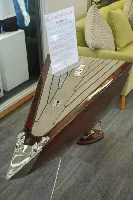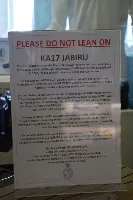 Notes (6)
KA 14 & KA 17 - boatyards
09-11-2017
Warren Muir reports:
Barrenjoey was built by Jeff Clist in Black Wattle bay, Sydney, I was the boatbuilding apprentice working on Barrenjoey at the time of construction. Hence, not next to KA-17, which was an earlier assumption.
5.5 KA-17 27.10 2015 By Roger Johnston
27-10-2015
Jabiru still lives. Or at least part of it. I have the bow section of the boat that my brother once owned back in the 1990's. I remember working on Jabiru. We removed the rigging and parked it in the garage at The Royal Sydney Yacht Squadron.
Stripped the hull back and resplined it. It was then a question of the best colour and we didn't want to go too red with the Mahogany so we mixed a batch of Teak and Mahogany stain which gave it a deep red/Maroon colour to the timber. Sprayed on 8 coats of Feast Watson marine varnish with a white water line and black Duvoe 77. It looked like a work of art.

One Saturday when it was ready to bring out of the hangar my brother looked up to see all the gentry drinking up on the top deck of the squadron. It was a gathering of all the club commodores from the surrounding sydney clubs all in their blue jackets and brass buttons. So we though yeah lets push this baby out and show them what a real boat looks like.
We rolled it out onto the hard stand in front of the whole club to see. What a show. They all came down and next thing you know we had a drinks party down by the boat. So this guy turns up and says to my brother. I built her.
It was Ron Baulkwell.
From memory he said Jabiru was built along side Barrenjoey which went on to win the 1964 Olympics 5.5 mtr class.
He felt Jabiru was the faster of the two but the crew of Jabiru in his opinion were no match for the crew of Barrenjoey. So thats how it went.

I will attach a few photos' of Jabiru's nose under reconstruction and soon to be launched into my lounge room.

Cheers and grab your beers.


5.5 KA-17
25-07-2010
Jabiru was beautifully made of Honduras Mahogany. She is now sadly deceased, having been struck on her mooring one night in 2008 (?), and sinking pretty quickly.
More
Document library (2)
Document
Size
By / When
323 Kb
323 Kb
1 Mb
1 Mb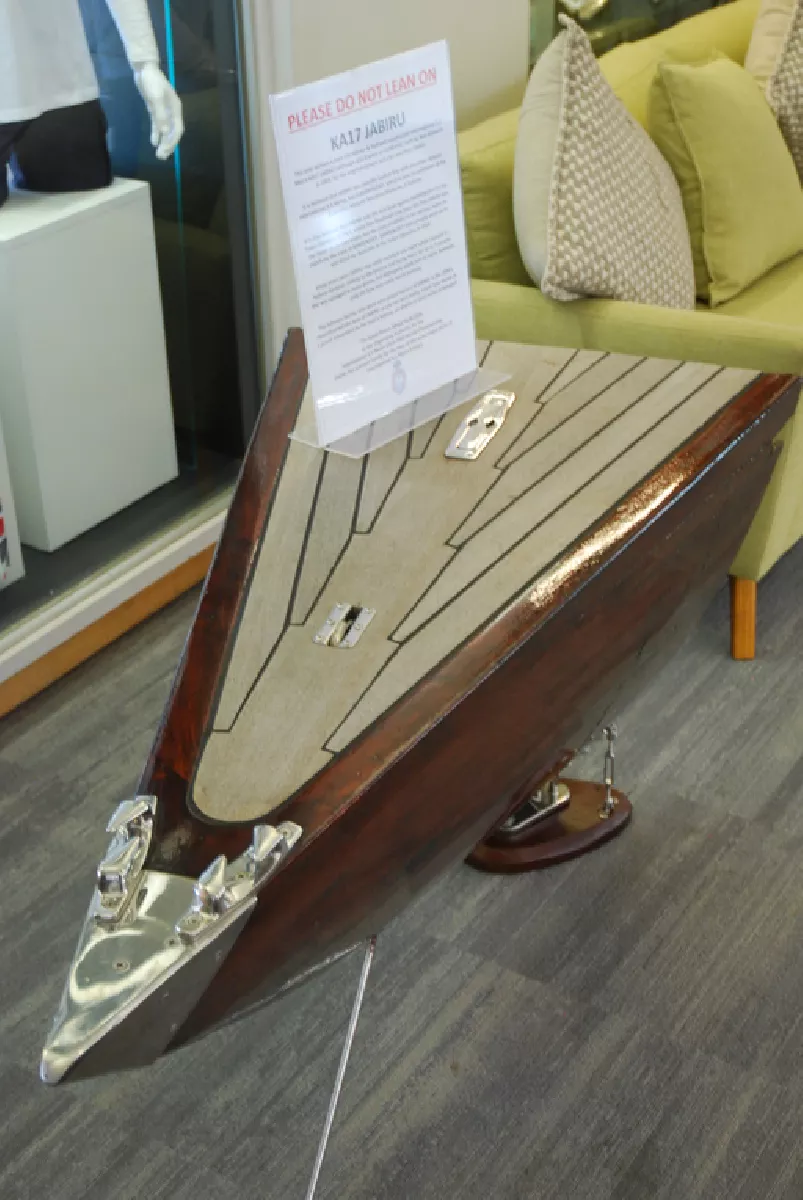 5.5 AUS 17 - Jabiru : the bow of Jabiru in the entrance of the RPAYC in Newport, NSW
(credits : Thies Först)
Added by THIES-HENDRIK FÖRST on 2020-01-25
Ownership history (0)
Sail#
Name
Owner
Results History (3)
Year
Rank
Race / Location
Skipper
Added by, on
Race :
Race 1 Manly Yacht Club Mini Regatta /

Location :
Manly Yacht Club, Sydney
Race :
Memorial Trophy Series /

Location :
Vaucluse Yacht Club, Sydney
Skipper :
Barbara Zussino
Race :
5.5mtr Australian Championship Handicap Series /

Location :
Sydney Harbour
Links Library (0)