Boat details
(n°676)
Boat details
(n°676)
MEX-1
Essentials
Designer
C. Raymond Hunt (USA)
Builder
Oy Vator, Vator Oy AB. Helsinki (FIN)
Material
Mahogany, carvel planked
1st certificate issued
01-01-1964
Original boat name
Xolotl
Original country
FIN
Original sail number
1
Current location
5.5 MX 1 "Xolotl" - in 1964 : Still image from the film
(credits : Not disclosed)
Added by Kaspar Stubenrauch
on 2022-01-13
Photo Gallery (1)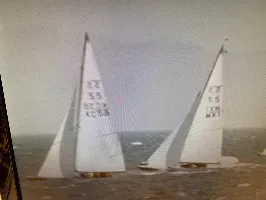 Notes (3)
5.5 MEX 1 "Xolotl"
07-01-2018
In an attempt to rejoin all existing participant boats of the 1968 Acapulco Olympic sailing regattas during summer 2018 for a 50th anniversary event, the search is on for 5.5 MEX 1 "Xolotl". Who can help?
MEX-001 Xolotl
08-08-2015
Xolotl, MEX-1, can be seen with the rest of the 1964 Olympics fleet in the Official Film available at:

https://www.youtube.com/watch?v=WHt0eAdCCns, from 1:39:00.
Built in Finland for the Mexican olympic commission
16-11-2010
MEX-001 Xolotl was built by Vator Oy Ab in Helsinki, Finland for the Mexican olympic commission. She was sailed by the Mexican team, skippered by Victor de la Lama, in the Tokyo olympics of 1964. Xolotl finished last of the 15 participating boats, mostly because she was introduced to the sailing team only shortly before the games.
Document library (0)
5.5 MX 1 "Xolotl" - in 1964 : Still image from the film
(credits : Not disclosed)
Added by Kaspar Stubenrauch on 2022-01-13
Ownership history (1)
Sail#
Name
Owner
MEX-1
"Xolotl"
Results History (0)
Links Library (0)