Boat details
(n°672)
Boat details
(n°672)
ITA-56
Essentials
Designer
Giulio Cesare Carcano (ITA)
Builder
Cantiere Molinari , (ITA)
Material
Mahogany, carvel planked
1st certificate issued
19-04-1968
Original boat name
Volpina V
Original country
ITA
Original sail number
56
Current location
Gargnano, Lake of Garda (ITA)
Volpina V renaissance : 1996: Volpina V fresh refurbished, with designer G.Cesare Carcano & Owner Feltrinelli Sergio in Gargnano (BS) Lake Garda Italy
(credits : Mauro Feltrinelli (c))
Added by Mauro, Sergio and Dino FELTRINELLI
on 2017-07-06
Photo Gallery (5)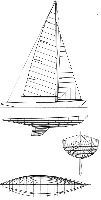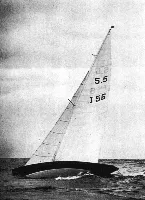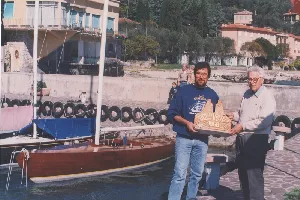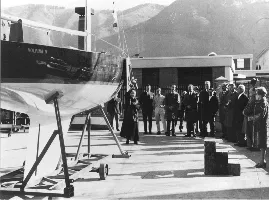 Notes (3)
5.5 ITA 56 "Volpina V" - on Lago di Garda in 2015
08-07-2017
An information received with a photo, from Mauro Feltrinelli: "...2015: After some more works, Volpina V in a white new dress cruises on Lake Garda..."
5.5 I-56 "Volpina V" - more historic info
15-07-2009
Information received today from Andrea Brambilla:
"VOLPINA V", designed by Ing. G. Cesare Carcano in late 1967 beginning 1968 (?). "Volpina V" is the last boat of the famous series.
Technical details: Loa 9,63 ml Lwl 6,89 ml B max 1,99 ml Draft 1,34 ml
Sail 29 mq displ. 2050 kg ballast 1160 kg.
I attach sail plan and lines.
Designer: ing. G.C. Carcano Italy
Builder: Cantiere Molinari Como Italy
First owner: Sig. Zeno Peretti Colò
Current location: unknown
Original sail number and country: ITA 056
First measurement: 19 april 1968

About this boat Ing. Carcano said: The boat was born, built and tested with a little keel. As it was impossible to take all the lead ballast in one little keel, part of this was taken onto the hull's bottom. In this condition the boat's vertical stability was excessively reduced; with advantages sailing downwind, but taking a handicap upwind. It was decided to make one change and, after a tuning, the boat was fast.

I know for sure the boat raced in Garda lake in may 1968 with other Volpina-boats and Ander, a design by Buizza. The performance of "Volpina V" was not excellent; the previous Volpina's were faster."

5.5 I-56 "Volpina V" - historic info
15-07-2009
Information received today from Andrea Rossi:
"Volpina V is the last wooden 5.50 built in Italy, it's sail number is ITA-056, it was designed in 1968 by Giulio Cesare Carcano for Zeno Peretti Colò, built at Cantiere Molinari (Como) and refitted in 2008 at Cantiere Feltrinelli in Gargnano (Garda Lake)."

Document library (0)
Volpina V renaissance : 1996: Volpina V fresh refurbished, with designer G.Cesare Carcano & Owner Feltrinelli Sergio in Gargnano (BS) Lake Garda Italy
(credits : Mauro Feltrinelli (c))
Added by Mauro, Sergio and Dino FELTRINELLI on 2017-07-06
Ownership history (1)
Sail#
Name
Owner
ITA-56
"Volpina V"
Results History (1)
Year
Rank
Race / Location
Skipper
Added by, on
Race :
European Championship /

Location :
Neuchatel
Links Library (0)