Boat details
(n°669)
Boat details
(n°669)
AUS-38
Essentials
Designer
Warren Muir (Australia)
Builder
Keith Revell, (AUS)
Material
Laminated wood
1st certificate issued
01-01-1980
Original boat name
Arunga IV
Original country
AUS
Original sail number
38
Current location
Bassin d Arcachon (FRA)
5.5 FRA 44 "Warrior III" : Upwind
(credits : Philippe Lapart)
Added by Kaspar Stubenrauch
on 2011-12-25
Photo Gallery (11)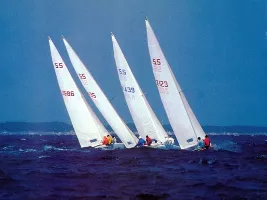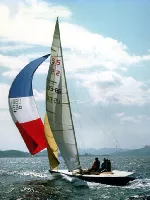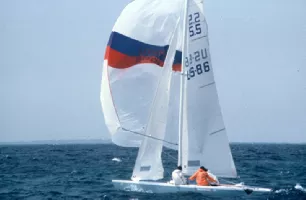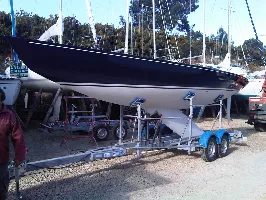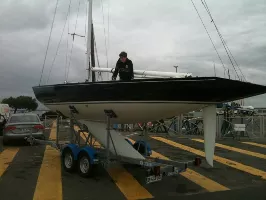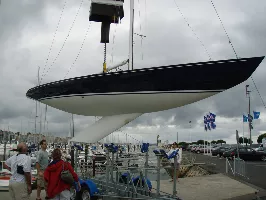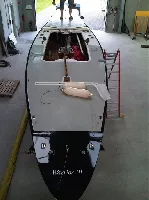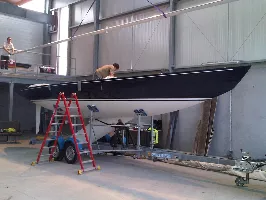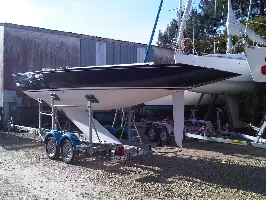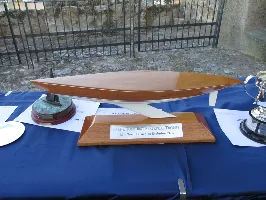 Notes (2)
5.5 KA-38 - The lines for the first Melges-sisters
25-12-2011
Info from Warren Muir about the first series of Melges built 5.5m boats: "...those boats listed were built from a mold form that Melges Boat Works took off "Warrior III".
The boats listed with their last sailnumbers known: NOR 47, USA 91, NOR 50, GER 75, USA 94, SUI 184, USA 96, NOR 54, SUI 176, NOR 56, SUI 202, NED 10, NOR 58, BAH 16, SUI 155, SUI 160, SUI 171, SUI 172 and GER 25. NED 10 was lost in a fire; USA 91, 94 + 96 are not found again, yet and BAH 16 is told to have gone to a US-based sailing school.
For "Warrior III" and the remaining Melges boats it will be a challenge to meet again, for close competition races. Gentlemen, on your marks!

5.5 AUS 38 "Arunga IV"
04-02-2010
Transfer of Notes from US-86, as this boat was original KA-38:

No AUS-31 - 07.06.2009 by Matti Muoniovaara
No AUS-31 - 03.06.2009 by Matti Muoniovaara
This boat is originally AUS-38 Arunga IV.
Look http://5.5inventory.org/AUS/038/
In the Record Book of the Scandinavian Gold cup is written:
1) In Sandhamn. The winner of the Scandinavian Gold Cup for 1978 is declared to be KA-31 Aunga III Frank Tolhurst Australia, Royal Prince Alfred Yacht club.
2) In Hankö. Next year 1979 Arunga III is in the Gold Cup having sail letters KH-31 (Hong Kong) and skipper Jon Mitchell (guess Australian) but does not win the Cup (dnc).
3) In Sydney. 1980 again Arunga III KA-31 and Frank Tolhurst win the Gold Cup.
In one article of Bobby Symonette written 1979 is something about Southern Cross IV which later was modified and renamed Antares II and later modified to Arunga IV. Arunga IV is a 'printing error' it should be Arunga III.
Warrior III was originally Arunga IV KA-38 and built 1980 or 1979.
The photos from Felix Bibus' archives show that Tolhurst is in the Bahamas but with Arunga V and with sail letters KA-39. Thommy Sprecher has Joker V (ex Arunga III KA-31) Z-128. Thommy has just bought the boat Arunga III. Al Cassel has Warrior III (ex Arunga IV KA-38) US-86
Arunga III (Frank Tolhurst 1978), Antares II (Mick Morris 1975) and Southern Cross IV (Norman Booth 1973) are the same boat KA-31 designed by Alfred Edward Luders Jr. design #1086 L5.5#57 from year 1972.
All Arunga 5.5s which I know:
Arunga, KA-28, A. E. Luders Jr. #1087, Ian Perdriau, 1972
Arunga III, KA-31, A. E. Luders Jr. #1086, Wm.H. Barnett, 1973
Arunga IV, KA-38, Ben Lexcen & Warren Muir, Keith Revell at Roger Ninham Boatbuilders, 1980
Arunga V, KA-39, Ben Lexcen & Warren Muir, Keith Revell at Roger Ninham Boatbuilders, 1981
Arunga VI, KA-40 (ex KA-34), A. E. Luders Jr. #1094, Keith Revell at Roger Ninham Boatbuilders, 1978
Arunga VII, don't know
Arunga VIII, KA-41, Ben Lexcen, Keith Revell at Roger Ninham Boatbuilders,1983
Arunga IX, KA-45, Ben Lexcen, Berela Boat Company, 1985
Arunga X, KA-52, Iain Murray, Hudson Boatbuilding, 1991
Please make note if incorrect.
Is she AUS-31 ? - 14.05.2009 by Site Administrator
Please visit http://5.5inventory.org/AUS/031/ and comment back here.
Tks.

So which AUS sail number Arunga 3 is the original ? - 14.05.2009 by Site Administrator
If somebody have a clearer view, please feel free to post it !

Precisions received from Warren Muir, 14.05.09 - 14.05.2009 by Site Administrator
Hi Seb,
To answer your questions re. Warrior 3.
First, the boat was originaly built for Frank Tolhurst, Arunga 3. I will check my files as Frank has had so many Arunga's over the years. At about this same time Frank also sold the Luders boat that was originaly Southern Cross 4 (Arunga 2) to Tomas Sprecher, which became Joker?
The boat (Warrior 3/ Arunga 3) was made from cold moulded wood and built by Keith Revell. I was building Pop's John B for Bobby Symonette at the same time so that should help you with the timing of the date and certificate. The boat was sold to Al Cassel after the Australian championships in 1980 and shipped to the Bahamas for the Worlds there in 1981.
Frank had Keith Revell build a second boat (Arunga 4) from the same design and mould but from Fibreglass composite and this boat along with Insurgent KA37, Rhapsody KA35 and Gravelle were all shipped to the Bahamas. The confusing part is that Frank changed the 2nd fibreglass boat (Arunga 4) back to the Arunga 3 name, for the 1981 worlds, as all his sails were numbered as per the previous (Arunga 3 / Warrior 3)
Sorry if this is confusing but it also was for everyone else at the time in 1981.
Regards,
Warren

Current location - 01.07.2008 by Gurvan Jaouen
She is sailing in southern Brittany, in the gulf of Morbihan, still under the same name.
Document library (0)
5.5 FRA 44 "Warrior III" : Upwind
(credits : Philippe Lapart)
Added by Kaspar Stubenrauch on 2011-12-25
Ownership history (4)
Sail#
Name
Owner
AUS-38
"Arunga IV"
USA-86
"Warrior III"
FRA-44
"Warrior III"
FRA-44
"Warrior III"
Results History (0)
Links Library (0)