Boat details
(n°66)
Boat details
(n°66)
FRA-22
Essentials
Designer
C. Raymond Hunt (USA)
Builder
B. Aubin, Chantiers Aubin (FRA)
Material
Mahogany, carvel planked
1st certificate issued
01-01-1962
Original boat name
Tac
Original country
FRA
Original sail number
22
Current location
F 22 sur l'Erdre devant le château de la Gascherie : Tac ?
(credits : LP)
Added by Louis Pillon
on 2007-10-05
Photo Gallery (5)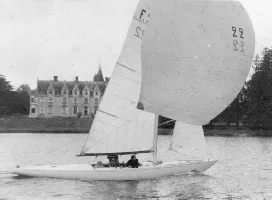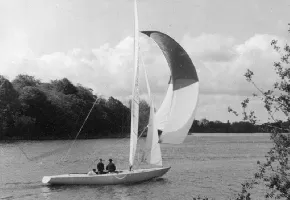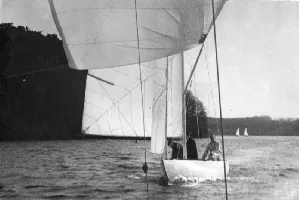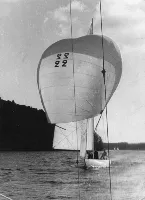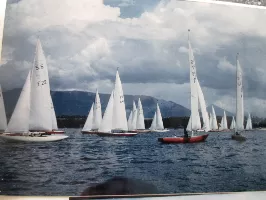 Notes (5)
Unmatched photos...
06-06-2014
Comparing the first 2 photos, we can assume that the 5.5 shown sailing downwind on the 2nd photo is not Tac: stern profile is different, as mast stepping, tiller position (under deck for F 22), etc...
Thus we have an unknown french 5.5 to discover! She looks like F19, but some elements are missing on deck and she was not white as those times...
5.5 F-22 "Tac" - built in 1962
14-05-2008
Owen Aisher (Back then President of the 5.5m Class)and Robin Aisher collected actual Class data in about 1962. The french list is showing "Tac" to be a Hunt design, built in 1962.
Recherche
05-10-2007
Comme les 4 photos jointes tentent de le prouver, c'est du côté de Sport Nautique de l'Ouest (Nantes) qu'il faut chercher les informations.

Sources : Archives de Daniel Guillet
More
Document library (0)
F 22 sur l'Erdre devant le château de la Gascherie : Tac ?
(credits : LP)
Added by Louis Pillon on 2007-10-05
Ownership history (1)
Sail#
Name
Owner
FRA-22
"Tac"
Results History (0)
Links Library (0)