Boat details
(n°65)
Boat details
(n°65)
FRA-21
Essentials
Designer
Einar Ohlson (SWE)
Builder
Oscar Schelin, Kungsörs Båtvarv AB (SWE)
Material
Mahogany, carvel planked
1st certificate issued
01-01-1962
Original boat name
Arion
Original country
SWE
Original sail number
21
Current location
Lake of Geneva (FRA)
FRA 21 : Régate des Vieux Bateaux 2009, la Tour-de-Peilz
(credits : F. Bouvier)
Added by François Bouvier
on 2009-09-06
Photo Gallery (6)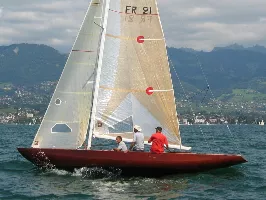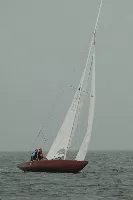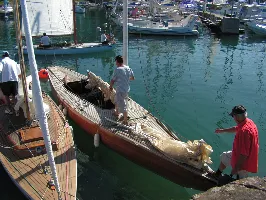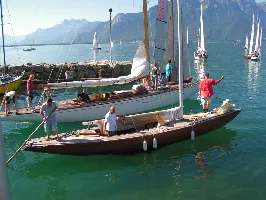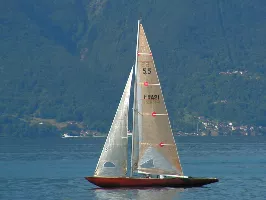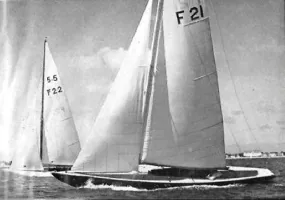 Notes (6)
Sagamore / Note translation by G. Jaouen
07-11-2016
Bought from Penther brothers at the beginnning of the 80s, this fantastic 5.5 has been owned for a while by Jean-Luc Boucher, son of a Naval officer and a great sailor, who christened her "Sagamore". He sailed her a lot off Benodet and Sainte Marine, close to Glenan Islands in southern Brittany. Damaged at Pichavant boatyard, after long and sad legal battles between insurers, she came finally into Pichavant's hands.

Sagamore
23-04-2012
Acheté aux frères Penther au début des années 1980, cet exceptionnel 5.50 a été la propriété de Jean-Luc Boucher, fils d'Officier de Marine et grand amoureux de la voile, qui l'a nommé Sagamore, et qui a beaucoup navigué avec au large de Sainte Marine, en plein pays bigouden, non loin des Glenan.
Accidenté aux chantiers Pichavant, il fut l'objet de tristes bagarres d'assureurs et finit par être récupéré par Pichavant.
Other name and owners...
18-08-2009
At a time she was christened "Bagheera" and owned by PENTHER brothers.

Then she became "Bijou Bihan" (when exactly is not known yet).
Her owners were the followings:

Jacques PICHAVANT ( ? - 1992)
Bernard PORTERES (1992 - ?)

In 1995 she was offered for sale at Moinard's yard at la Rochelle.
More
Document library (0)
FRA 21 : Régate des Vieux Bateaux 2009, la Tour-de-Peilz
(credits : F. Bouvier)
Added by François Bouvier on 2009-09-06
Ownership history (2)
Sail#
Name
Owner
FRA-21
"Arion"
FRA-21
"Sagamore"
Results History (0)
Links Library (2)
01-05-2008
(Data, contributing to the findings of the origin of F-21)
05-02-2023
(Also for 5.5 FRA 21 "Sagamore")