Boat details
(n°592)
Boat details
(n°592)
GBR-8
Essentials
Designer
Charles A. Nicholson (GBR)
Builder
C.A. Nicholson, Camper & Nicholsons Ltd. (GBR)
Material
Mahogany, carvel planked
1st certificate issued
01-06-1955
Original boat name
Yeoman V
Original country
GBR
Original sail number
8
Current location
5.5 SA 4 "Yeoman V" : Racing in front of Melbourne in 1956
(credits : IOC / 1956 O. report)
Added by Kaspar Stubenrauch
on 2012-12-01
Photo Gallery (1)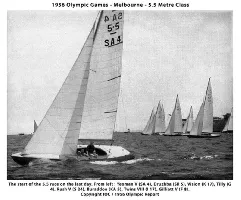 Notes (5)
5.5 AUS 2 - Boat search
13-05-2023
Who can help to find the boat?
5.5 KA-2 "Yeoman V" - shipped to Australia
06-03-2010
Info received from Warren Muir:
"...KA2- Yeoman V. Originally from England, owned by Owen Aisher, Sailed as GBR 008. First owned in Australia by Frank Harrison about 1960..."


Yeoman V: K-4
21-08-2009
According to information from the National Maritime Museum in Greenwich, UK (from their Camper & Nicholsons Ltd files and Lloyd's Register of Yachts), Yeoman V was GBR-4 (K-4).
Owned by Owen A. Aisher 1955-61, and designed and built 1955 by Camper & Nicholsons (Design No A102, Yard No 810).



More
Document library (1)
Document
Size
By / When
857 Kb
857 Kb
5.5 SA 4 "Yeoman V" : Racing in front of Melbourne in 1956
(credits : IOC / 1956 O. report)
Added by Kaspar Stubenrauch on 2012-12-01
Ownership history (3)
Sail#
Name
Owner
GBR-8
"Yeoman V"
RSA-4
"Yeoman V"
AUS-2
"Yeoman V"
Results History (1)
Year
Rank
Race / Location
Skipper
Added by, on
Race :
Olympic Games /

Location :
Melbourne
Links Library (1)
23-12-2020
(Ample historic info & the archive)