Boat details
(n°570)
Boat details
(n°570)
AUS-24
Essentials
Designers
Robert "Bob" Miller (AUS)
aka Ben Lexcen
Builder
K. Revell, Beashel's Yacht Basin, Elvina Bay, Pittwater (AUS)
Material
Carvel planked, Oregon planks, Silver Ash ribs
1st certificate issued
14-03-1968
Original boat name
Kings Cross
Original country
AUS
Original sail number
24
Current location
Newport (RPAYC), Pittwater, NSW (AUS)
5.5 AUS "Kings Cross" - Worlds 2020 : view of keel and rudder blade
(credits : Thies Först)
Added by THIES-HENDRIK FÖRST
on 2020-12-28
Photo Gallery (10)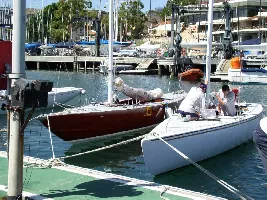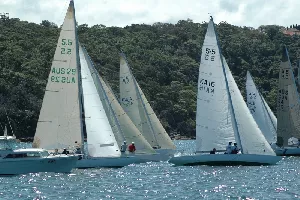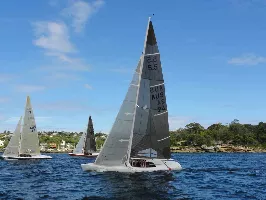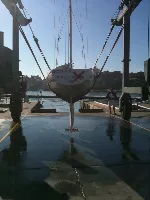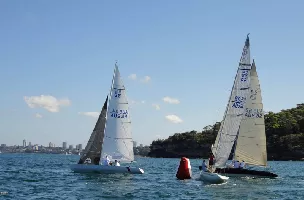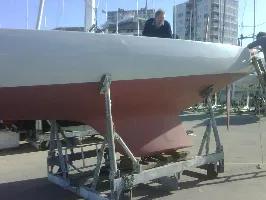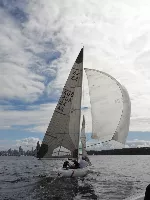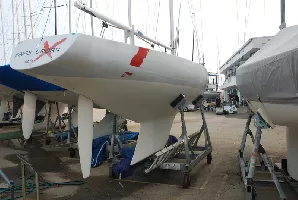 Notes (3)
5.5 AUS 24 "Kings Cross" - history
17-11-2017
Mark Lutowski reports:
She was designed for light airs of Acupulco however the Olympic Trials held here in Botany Bay were in heavy conditions where her original configuration was not best. They had one light race and Kings Cross won it by that far they didn't see who finished second!
She was modified to be better in moderate breeze but she has aways been terrific in the light airs.
Maybe a perfect lake boat!

5.5 KA-24
06-03-2010
Warren Muir reports: KA-24, "Kings Cross". Built by Keith Revell, originally owned by Frank Tolhurst then sold to Lother Bringmann.
Bob Miller also known as Ben Lexcen
18-02-2009
Bob Miller (9th March 1936 - 1st May 1988) changed his name in the mid 70's to Ben Lexcen to avoid confusion with his former company. He is most famous for the winged keel design applied to Australia II which, in 1983, became the first non-American yacht to win the prestigious America's Cup in 132 years.




Document library (1)
Document
Size
By / When
137 Kb
137 Kb
5.5 AUS "Kings Cross" - Worlds 2020 : view of keel and rudder blade
(credits : Thies Först)
Added by THIES-HENDRIK FÖRST on 2020-12-28
Ownership history (3)
Sail#
Name
Owner
AUS-24
"Kings Cross"
AUS-24
"Kings Cross"
AUS-24
"Kings Cross"
Results History (0)
Links Library (2)
25-03-2018
(Formerly known as Beashels Yacht Basin)
25-03-2018
(Information on his sailing history)