Boat details
(n°559)
Boat details
(n°559)
USA-77
Essentials
Designer
Dr. Jerome H. "Jerry" Milgram (USA)
Builder
Chr. Christiansen, Marina America Inc., Stamford CT (USA)
Material
Mahogany on oak ribs; fir used as well
1st certificate issued
00-00-1968
Original boat name
Lady Luck
Original country
USA
Original sail number
77
Current location
Tall Timbers, Chesapeake Bay (USA)
5.5 USA 77 "Tango" - front view : In the crane
(credits : Stuart Hanley)
Added by Kaspar Stubenrauch
on 2013-12-01
Photo Gallery (11)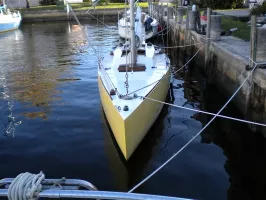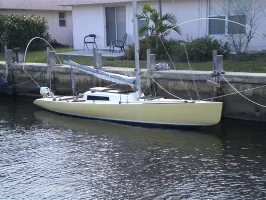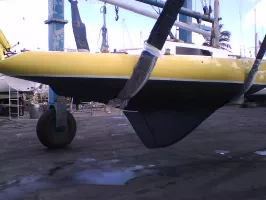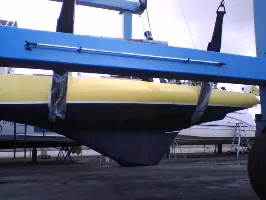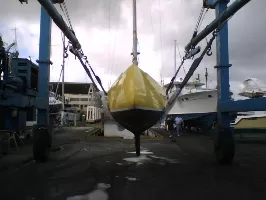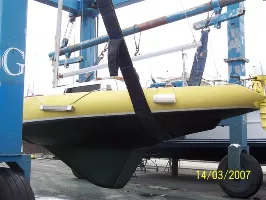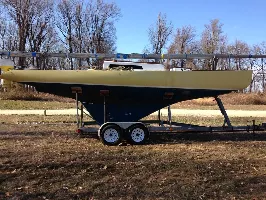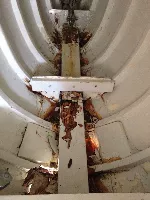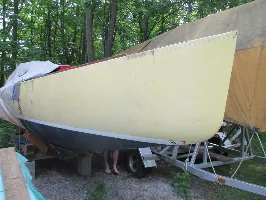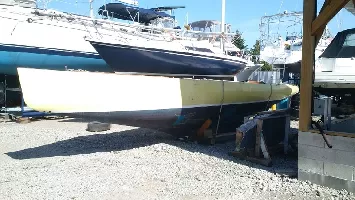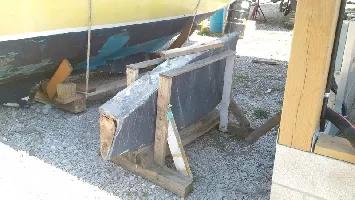 Notes (4)
5.5 USA 77 "Lady Luck" - back in the USA
13-12-2019
The boat is now taken care of on the shores of Chesapeake Bay. Restoration going on, to prepare her for racing condition, in a not too distant future.
Awaiting a rebuilding
26-02-2016
Lady Luck is now in the yard with the keel pulled off awaiting a rebuild. She is currently in very rough shape with many of her planks in need of replacement and most lower ends of her ribs totally deteriorated. I am currently rebuilding another boat and hope to get to Lady Luck in a year. All being well, she will race again as Lady Luck CAN 77.
5.5 US-77 "Lady Luck"
28-12-2012
Steve Colgate, who has been crew on the US-Olympic 5.5 "Cadenza", has helped with a list of starters in the 1968 Olympic trial races, stating US-77 "Lady Luck". The boat is today sailing as "Tango".
More
Document library (4)
Document
Size
By / When
268 Kb
268 Kb
752 Kb
752 Kb
178 Kb
178 Kb
852 Kb
852 Kb
5.5 USA 77 "Tango" - front view : In the crane
(credits : Stuart Hanley)
Added by Kaspar Stubenrauch on 2013-12-01
Ownership history (4)
Sail#
Name
Owner
USA-77
"Lady Luck"
USA-77
"Tango"
CAN-77
"Lady Luck"
USA-77
"Lady Luck"
Results History (0)
Links Library (1)
28-12-2012
(Steve Colgate (US-68) reports on the short appearance of "Lady Luck")