Boat details
(n°556)
Boat details
(n°556)
USA-61
Essentials
Designer
Britton Chance Jr. (USA)
Builder
Dirk Kneulman, Ontario Yachts (CAN)
Material
Mahogany, carvel planked
1st certificate issued
01-01-1965
Original boat name
Surricon
Original country
CAN
Original sail number
61
Current location
Oxford, Maryland (USA)
5.5 USA 61 "Surricon" - Possibly found : Stored since long
(credits : Thomas C. Price)
Added by Kaspar Stubenrauch
on 2012-03-02
Photo Gallery (1)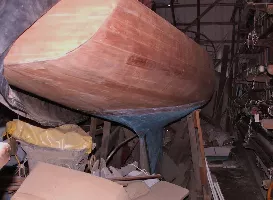 Notes (2)
5.5 USA 61 "Surricon" - Possibly found
02-03-2012
Thomas C. Price of Annapolis reports:
"...I am fairly certain that she was once Ted Turners boat, as I remember being told that more than 25 years ago when I first came across the boat. Also the current owner recalls being told that too.
So....according to the 5.5 meter list of US boats, that make me think that maybe she is actually USA 61 "Surricon" that became Vamp XII, which was owned by Ted Turner in 1966. I'm not sure whether I will hear from Mr.
Turner to verify the boat from the photos but it certainly seems possible.
The 5.5 register mentions that she was damaged during shipment from Copenhagen (after the Worlds) and never sailed again. That could explain why she was never launched in the 30 years I've known of the boat. Inspecting her in the dark with a flashlight, she seemed in quite good shape except for rather ominous looking splits in her floor timbers and in her keelson. That certainly could be from being dropped...At any rate, she is lovely and sitting peacefully, making for nice photographs...."

Information
24-01-2009
The bulder was Ontario Yachts in Toronto.
The boat was damaged during the ship transport from Copenhagen 1966 and propably never sailed again.
Document library (0)
5.5 USA 61 "Surricon" - Possibly found : Stored since long
(credits : Thomas C. Price)
Added by Kaspar Stubenrauch on 2012-03-02
Ownership history (2)
Sail#
Name
Owner
USA-61
"Surricon"
USA-61
"Vamp XII"
Results History (1)
Year
Rank
Race / Location
Skipper
Added by, on
Race :
World Championship /

Location :
Copenhagen
Skipper :
Robert E. "Ted" Turner
Links Library (0)