Boat details
(n°552)
Boat details
(n°552)
USA-70
Essentials
Designer
Britton Chance Jr. (USA)
Builder
Harold Halvorsen, Lars Halvorsen Sons, Pty. Ltd. (AUS)
Material
Wood, carvel planked
1st certificate issued
01-01-1966
Original boat name
Chance
Original country
AUS
Original sail number
70
Current location
5.5 US 70 "Chance" - World's in The Bahamas 1967 : Racing next to G 13 and I 55
(credits : Harmstorf family archives)
Added by Kaspar Stubenrauch
on 2021-04-05
Photo Gallery (1)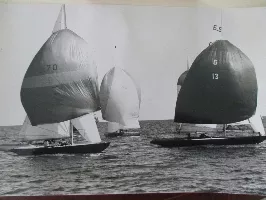 Notes (2)
5.5 US 70 - chartered in September 1966
04-04-2021
Rudolf Harmstorf chartered "Chance", for the 1966 US-Championship at StYC, presumably to try this design in comparison to his own Ohlson design, before making a decision regarding his 1968 Olympic challenge. Crew on board in Stamford was Robert H. Symonette.
The builder
24-01-2009
The builder of the boat was Lars Halvorsen in Sydney Australia.
Document library (1)
Document
Size
By / When
801 Kb
801 Kb
5.5 US 70 "Chance" - World's in The Bahamas 1967 : Racing next to G 13 and I 55
(credits : Harmstorf family archives)
Added by Kaspar Stubenrauch on 2021-04-05
Ownership history (2)
Sail#
Name
Owner
USA-70
"Chance"
USA-70
"Truant"
Results History (1)
Year
Rank
Race / Location
Skipper
Added by, on
Race :
World Championship /

Location :
Copenhagen, KDY, Denmark
Skipper :
Probably Britton Chance J:r
Links Library (1)
27-02-2023