Boat details
(n°550)
Boat details
(n°550)
USA-62
Essentials
Designer
Norman Glynn Owens (USA)
Builder
Henr. Aas, Bjarne Aas Ltd., Fredrikstad (NOR)
Material
Mahogany planks on steambent ash frames, bronze fastened
1st certificate issued
02-07-1965
Original boat name
Odin 2
Original country
NOR
Original sail number
62
Current location
Rockland, ME (USA)
5.5 USA 62 "Lyric" - after relaunch : Sailing again after a tremendous restoration work
(credits : Eric Stockinger)
Added by Kaspar Stubenrauch
on 2012-10-02
Photo Gallery (5)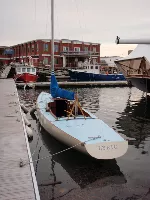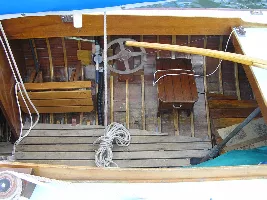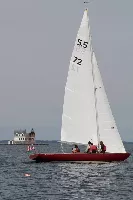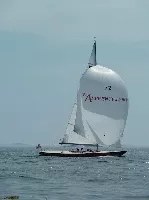 Notes (4)
N.G. Owens - historic info
13-02-2019
Norman and his brothers started and operated the Owens Yacht Company. Norman was a naval architect who designed both powerboats and sailboats. The Owens Cutter is one of his designs, but he also designed in the 5.5 Metre Class and 2 Ton Class. He was an active Regatta sailor, winning many races over the years.
5.5 USA 62 "Lyric" - sailing again
06-04-2017
Eric Stockinger reports on the relaunch of "Lyric" after a complete rebuild to original configuration. First races have been sailed on local waters (Mainsail showing 72 of "Cloud IX"?) and the boat will serve as flagship boat for the yard. Boat & Crew are looking forward to join other 5.5's, racing on the East Coast.
Information
23-01-2009
Designer is Norman Owens.
More
Document library (0)
5.5 USA 62 "Lyric" - after relaunch : Sailing again after a tremendous restoration work
(credits : Eric Stockinger)
Added by Kaspar Stubenrauch on 2012-10-02
Ownership history (3)
Sail#
Name
Owner
USA-62
"Odin 2"
USA-62
"Lyric"
USA-62
"Lyric"
Results History (0)
Links Library (2)
05-01-2009
(Website of Atlantic Challenge, owners of 5.5 USA 62 "Lyric")
16-09-2012
(Follow the work on "Lyric", which will be returned to racing)