Boat details
(n°535)
Boat details
(n°535)
FIN-20
Essentials
Designer
Gösta Kyntzell
Builder
L. Wilenius, Wilenius L. Porvoo, (Finland)
Material
Wood, carvel planked
1st certificate issued
01-01-1959
Original boat name
Inga-Lill XXXXIV
Original country
Finland
Original sail number
20
Current location
Helsinki, Baltic Sea (FIN)
FIN-020 :
(credits : http://www.cederberg.fi)
Added by Site Administrator
on 2008-11-20
Photo Gallery (1)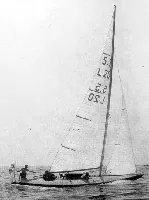 Notes (5)
FIN-20 vignette photo
16-05-2010
The vignette photo of Inga-Lill XXXXIIII shows the boat doing sail testing in Naples, Italy in 1960, prior to the Olympic regatta. Notice the unconventional four man crew.
Former owners
13-05-2010
Gösta Kyntzell 1959-1961 (Inga-Lill XXXXIIII)
Ulf Kyntzell 1961-1971 (Inga-Lill XXXXIIII)
Unknown 1971-, (Baloo)
Finnish Gold Cup challenger
13-05-2010
"Inga-Lill 44" was the Finnish Gold Cup challenger in 1960 and 1961. The boat also represented Finland in the 1960 Rome Olympics (the regatta was organized in Naples).
More
Document library (0)
FIN-020 :
(credits : http://www.cederberg.fi)
Added by Site Administrator on 2008-11-20
Ownership history (1)
Sail#
Name
Owner
FIN-20
"Inga-Lill XXXXIV"
Results History (0)
Links Library (3)
20-11-2008
(... and specially dedicated to the boat)
18-01-2009
( Builder of 12 5.5 metres 1950 - 1959)
16-09-2012
(A good picture of Inga-Lill 44 in the Gold Cup in Helsinki in the international class associations website.)