Boat details
(n°516)
Boat details
(n°516)
ITA-35
Essentials
Designer
Einar Ohlson (SWE)
Builder
Oscar Schelin, Kungsörs Båtvarv AB (SWE)
Material
Mahogany, carvel planked
1st certificate issued
01-01-1961
Original boat name
Ciocca IV
Original country
SWE
Original sail number
35
Current location
Laveno, Lago Maggiore (ITA)
ciocca IV : 5.5 s.i.
(credits : )
Added by giovanni albera
on 2010-02-14
Photo Gallery (1)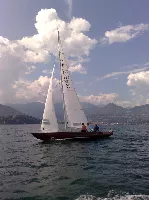 Notes (3)
owners
11-11-2015
Built for Massimo Poggi as Ciocca IV
1962 Adolfo Carpeneto
1969 Luigi Nocidelli
1980 Augusto Bottagisio named "Ada Maria"
1992 Massimo Gregori named "Lady E"
5.5 I-35 "Ciocca IV" - Original or alias - S-35?
11-01-2010
The Swedish list of 5.5's is having S-34 and S-35 listed on them, which never showed up with Swedish ownership data, there.
Theory: Both boats were planned for Sweden, but right away sold to Italy and for easyness, the "S" was changed for an "I".
Anyone for a bet?
The builder of Ciocca IV
13-07-2008
In the entry list of Regate di Genova 1964 is written: disegnatore Einar Ohlson, construttore Ohlson Brothers
Document library (1)
Document
Size
By / When
816 Kb
816 Kb
ciocca IV : 5.5 s.i.
(credits : )
Added by giovanni albera on 2010-02-14
Ownership history (2)
Sail#
Name
Owner
ITA-35
"Ciocca IV"
ITA-35
"Ciocca IV"
Results History (0)
Links Library (2)
12-07-2008
(Boats built by Kungsörs)
02-02-2023
(Also for 5.5 ITA 35 "Ciocca IV")