Boat details
(n°472)
Boat details
(n°472)
ITA-5
Essentials
Designers
Pietro Baglietto (ITA)
Vincenzo V. Baglietto (ITA)
Builder
Cantieri navali Baglietto, (ITA)
Material
Mahogany, carvel planked
1st certificate issued
01-01-1952
Original boat name
Twins VI
Original country
ITA
Original sail number
5
Current location
La Spezia, Mediterranean (ITA)
5.5 ITA 5 "Twins VI" : At the Cortelotti Marine boatyard
(credits : Andrea Lotti)
Added by Kaspar Stubenrauch
on 2015-10-31
Photo Gallery (3)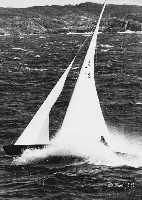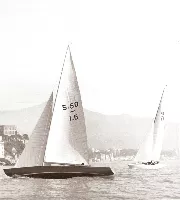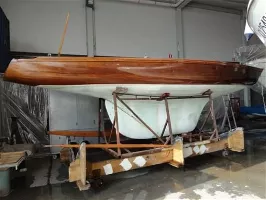 Notes (5)
Olympic 1952 Helsinki
23-02-2017
Ancora nel 1949, l'IYRU sceglieva la Classe Internazionale 5.5 metri SI, quale nuova classe a formula piccola, che divenne subito classe olimpica per i Giochi di Helsinki del 1952 insieme al 6 M SI, al Dragone, alla Star e al Finn (nato Fint). Le prime regate della nuova classe internazionale si disputarono a Genova nel 1951, con dominio delle barche svedesi. Gli italiani iniziarono a primeggiare dopo due anni, quando Twins VI (progetto e costruzione Baglietto) timonato da Max Oberti con Antonio Carattino e Carlo Maria Spirito, vinse in Finlandia la Coppa Italia nel 1953 (foto n. 7). Twins VI conquistava la Coppa Italia ancora nel 1954 a Genova, e nel 1955 trionfava in Svezia nella Coppa d'Oro.

5.5 ITA 5 "Twins VI" - found in La Spezia
18-10-2015
A regular check on the marine advertisement websites can help. Just found on Yachtworld.com has been this one: A Baglietto 1952 built 5.5m boat, located at the Lotti boatyard in La Spezia. Reconfirmation from Andreas Rossi, that the boat must be 5.5 ITA 5 "Twins VI", famous 1954 Gold-Cup winner. Another add-on to the Italian fleet.
Owner list
23-03-2009
Max E. Oberti
Paolo Emilio Bruzzone - Giacomo Clerici
Giorgio Anfossi
Giovanni Massazza

More
Document library (0)
5.5 ITA 5 "Twins VI" : At the Cortelotti Marine boatyard
(credits : Andrea Lotti)
Added by Kaspar Stubenrauch on 2015-10-31
Ownership history (1)
Sail#
Name
Owner
ITA-5
"Twins VI"
Results History (2)
Year
Rank
Race / Location
Skipper
Added by, on
Race :
Coppa d'Italia /

Location :
Helsinky (Finland)
Race :
Coppa Wallenberg /

Location :
Genova (Italiy)
Links Library (1)
18-10-2015
(Actual images at the Lotti boatyard)