Boat details
(n°46)
Boat details
(n°46)
FRA-1
Essentials
Designer
Eugène Cornu (FRA)
Builder
Jean-Jacques Bonnin, Chantiers Bonnin, Arcachon (FRA)
Material
Honduras mahogany on oak ribs
1st certificate issued
01-01-1950
Original boat name
Gilliatt IV
Original country
FRA
Original sail number
1
Current location
Aalsmeer, Westeinderplassen (NED)
5.5 NED 5 "Gilliat" Vintage Classic Meeting 2014 : cruising on Lake Starnberg
(credits : Thies-H. Först)
Added by THIES-HENDRIK FÖRST
on 2014-08-19
Photo Gallery (20)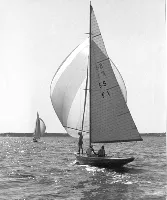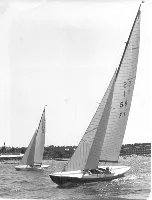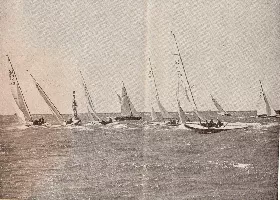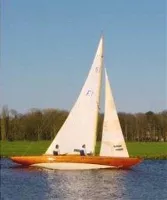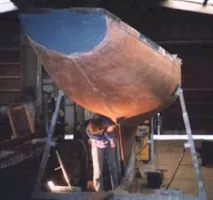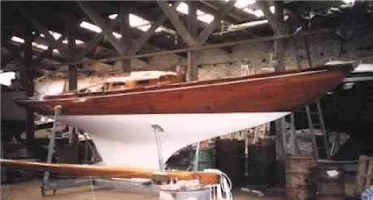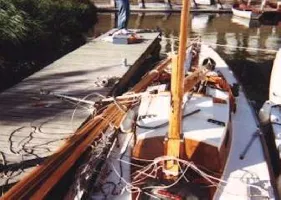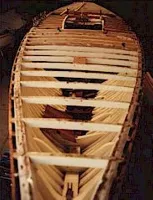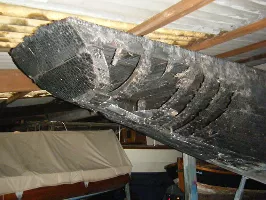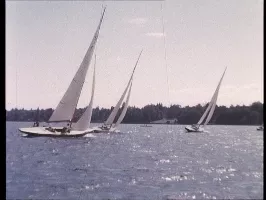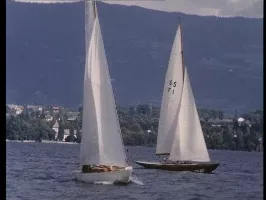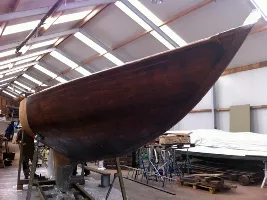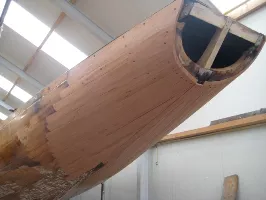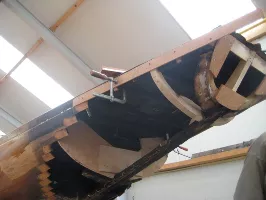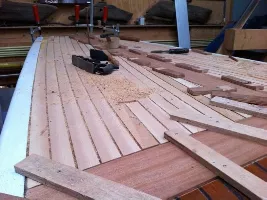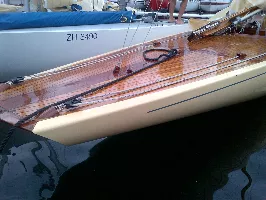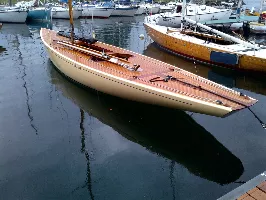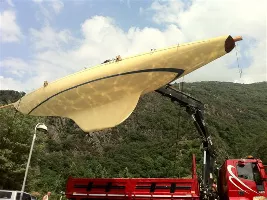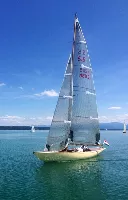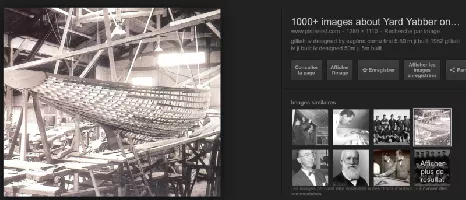 Notes (5)
5.5 NED 5 "Gilliat" - Returning to original beauty
18-03-2012
Following a desastrous fire in 2008, the boat has since been in very good hands, taking care. A lot of hours, wood and varnish invested, we do expect her back to the racing scene in a not too distant future. Well done - BEDANKT!
Renovatie NED 5 Gilliatt (from the 5.5 dutch fleet website, to be translated, please)
29-06-2008
Nieuwe eigenaren van schepen hebben altijd wat te veranderen, maar Marieke Engel en Erwin Poeze hebben het grondig aangepakt. Nadat hun aankoop van NED 5 Gilliatt werd de donker rode romp geheel kaal gehaald en voorzien van een nieuwe blanke laklaag (waarschijnlijk meerdere!). Met de nieuwe klassieke uitstraling ging het schip te water en werd er niet alleen getourt, maar schreven zij zich ook in voor wedstrijden tegen de andere klassieke schepen van de Nederlandse vloot. Helaas tijdens de Flevorace begaf de houten mast het. Echter niet uit het veld geslagen zagen Erwin en Marieke dit als de aanleiding om het dek van het schip ook grondig aan te pakken. De niet orginele opbouw werd vervangen door een kompleet nieuw dek volgens de orginele layout. In 1950 werden de 5.5 meters nog voorzien van een aparte kuip voor de stuurman, zoals toen ook gebruikelijk bij de 6 en 8 meters. een nieuwe mast kon niet van aluminium zijn, dus werd het hout uitgezocht en een nieuwe houten mast gebouwd. Nu straalt het nieuwe schip weer in zijn oude glorie, en de Nederlandse vloot is een fraaie klassieker, gebouwd in 1950, rijker.
From the 5.5 dutch fleet website (to be translated, please)
29-06-2008
Orgineel gebouwd als F 1. Door huidige eigenaars in 2000/2001 weer in orginele staat teruggebracht. En dat wil ook zeggen dat dit schip weer met een houten mast vaart! Hieronder een verslag met fotos.
More
Document library (0)
5.5 NED 5 "Gilliat" Vintage Classic Meeting 2014 : cruising on Lake Starnberg
(credits : Thies-H. Först)
Added by THIES-HENDRIK FÖRST on 2014-08-19
Ownership history (4)
Sail#
Name
Owner
FRA-1
"Gilliat IV"
FRA-1
"Marquita"
NED-5
"Gilliatt"
NED-5
"Gilliat"
Results History (0)
Links Library (0)