Boat details
(n°456)
Boat details
(n°456)
AUS-31
Essentials
Designer
Alfred Edward "Bill" Luders Jr. (USA)
Builder
Wm. H. Barnett, Wm. H. Barnett Pty Ltd (AUS)
Material
Cold laminated, mahogany & cedar, on ribs
1st certificate issued
14-04-1973
Original boat name
Southern Cross IV
Original country
AUS
Original sail number
31
Current location
Alster (HSC), Hamburg (GER)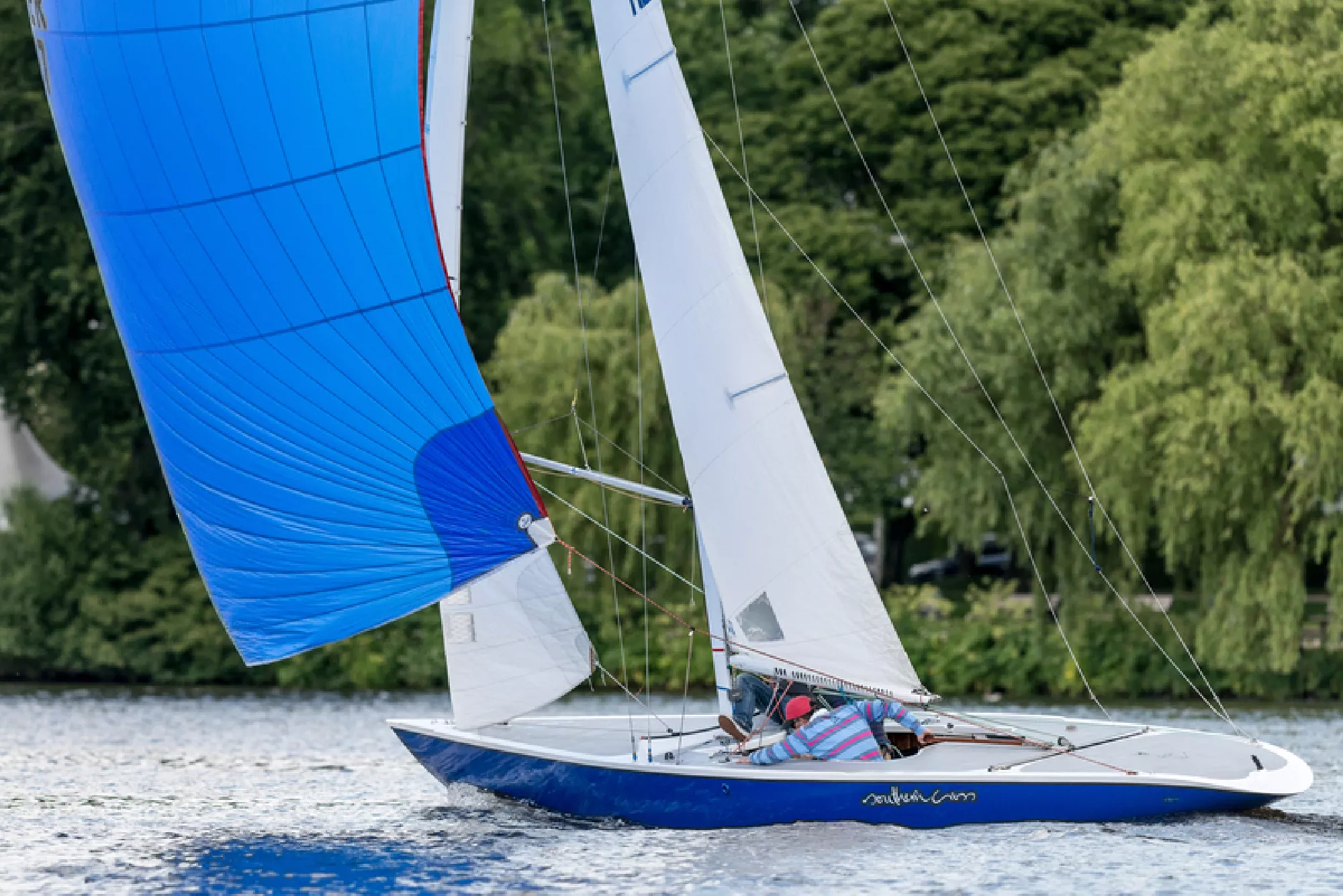 Southern Cross IV : Racing 2016 in Hamburg
(credits : Wolf Hansen Photography)
Added by joerg gruenwald
on 2016-08-19
Photo Gallery (39)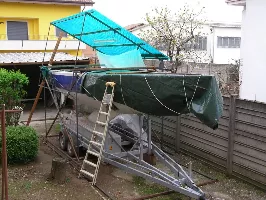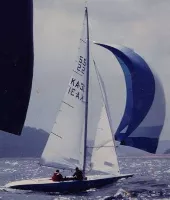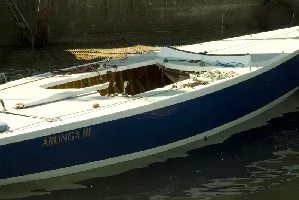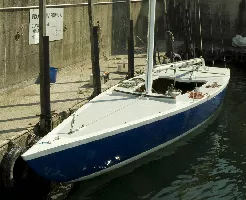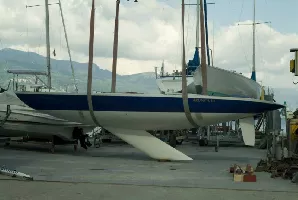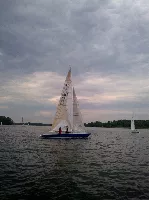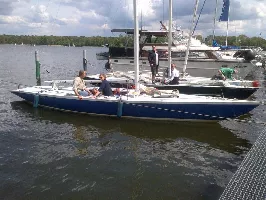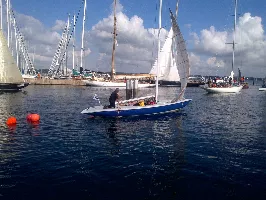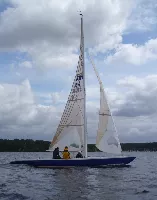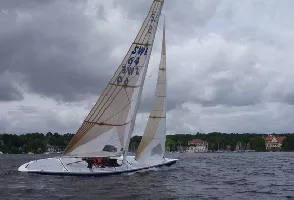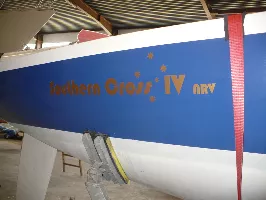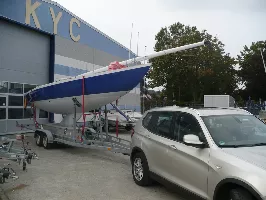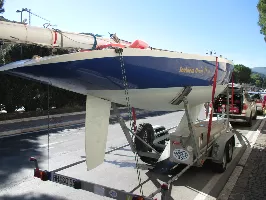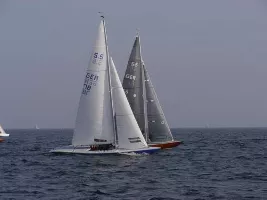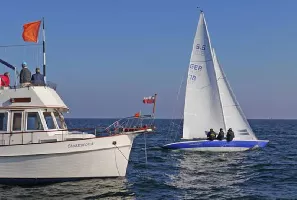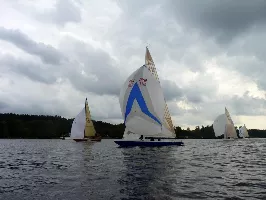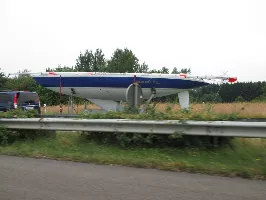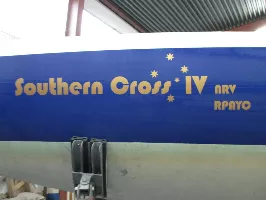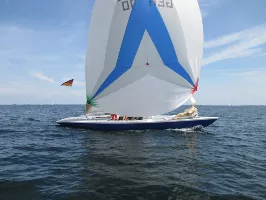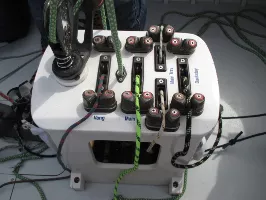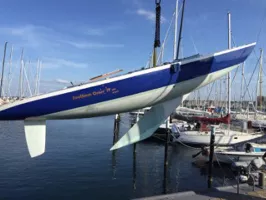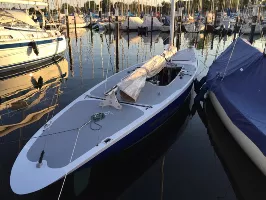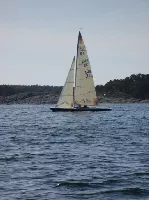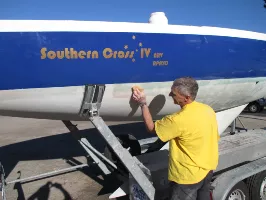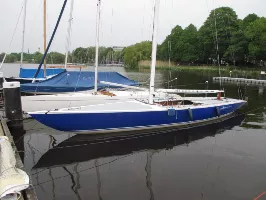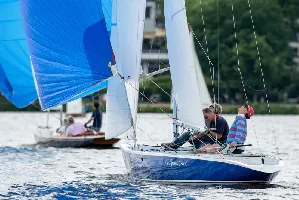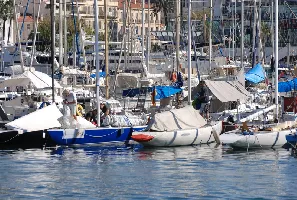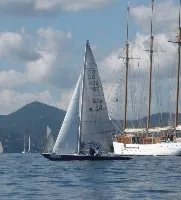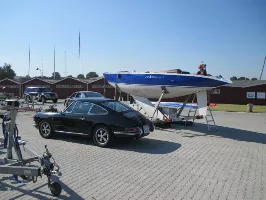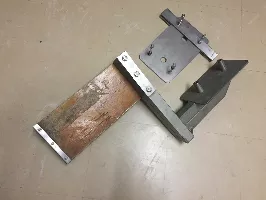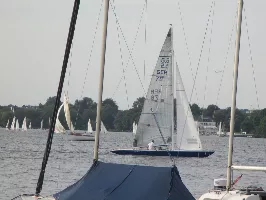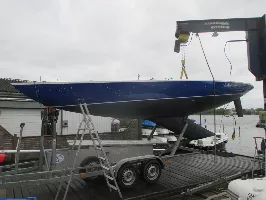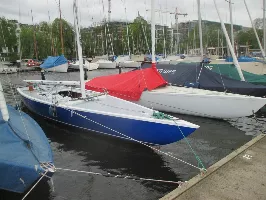 Notes (4)
5.5 GER 78 alias SWE 64 ex AUS 31 - truly a fast enjoyment
22-10-2013
5.5 GER 78 "Arunga III" has been racing again during the season 2013: With Swedish crew in Berlin in May on Langer See, Danish Crew in July on Wannsee, then again with Swedish crew in August at the Sterling Cup and finally with German Crew at the FSC, on Flensburg Fjord. All of them enjoying an early Evolution boat getting near or being ahead of much younger 5.5's. Guess what happens, if we exchange the 1995 sails for new ones, next year. The jib has now already been done, more to follow!
5.5 SUI 128 "Arunga III" - recent history
04-12-2009
This report from Riccardo:

"...Well, Arunga…sigh!!!

Five yaers ago I sold my fat and slow Cecco 8 and decided to buy a Soling.

I passed by a shipyard on the lake Maggiore looking for used boats and I saw her. Wooden frames and diagonal planks had nothing to do with fiberglass of the Linge design, even so elegant…

She was in quite good condition even though an accurate inspection of the bilge area was almost impossible due to the unremovable floor.

She was in the darkness of a shed…Take it or leave it…well, took it!

Arunga has been armoured on a pontoon for a year, I used her quite often. She was covered with her original blanket and an additional PVC, but these boats are quite fragile, you know (through deck mast, ropes…). Some stagnant water in the bilge caused the terminal part of some frame to go rotten and a storm+waves caused a mooring line to brake and the razor blade stern hit the pontoon.

Two years ago I decided to undergo a deep restoration on my own. My princess needed me. I'm quite skilled with manual work and I prefered to do the job by myself, for costs and for the final result.

The idea was to restore her with a look to waterproofing (I cant afford launching and taking her ashore each week end, and she will be at a buoy in the future, maybe). I read some books about the restoration with epoxy (West System), talked to some boat restorers to evaluate the best approach and choose the right timber…

The floor and the central control tower were removed, all paint scraped away from the bilge region, the terminal part of the frames flushed away and new solid wood frames (overlapping keel and so giving extra stiffness) positioned and glued with epoxy and brass/steel fasteners.

At the moment, she is in my garden well coverd with a waterproof blanket and a moovable shed I constructed. All the bilge region restoration has been almost completed with new frames and three epoxy layers. At the moment I'm concentrating on the floor and the new control tower with a new disposition of the control ropes. I'm working also on the main Sail traveller, on the jib traveller, stays and shrouds (all to waterproofing) with new steel chainplates...."

KH-31
03-06-2009
Jon Mitchell chartered Aunga III for the Gold Cup 1979 in Hankö but did not race. Sail letters were KH-31.
More
Document library (1)
Document
Size
By / When
1.35 Mb
1 Mb
Ownership history (14)
Sail#
Name
Owner
AUS-31
"Southern Cross IV"
AUS-31
"Antares II"
AUS-31
"Antares II"
AUS-31
"Arunga III"
HKG-31
"Arunga III"
SUI-128
"Joker V"
SUI-128
"Flash Back"
SUI-128
"Flash Back"
SUI-128
"Arunga III"
SUI-128
"Arunga III"
ITA-59
"Arunga III"
GER-78
"Arunga III"
AUS-31
"Southern Cross IV"
GER-78
"Southern Cross IV"
Results History (11)
Year
Rank
Race / Location
Skipper
Added by, on
Links Library (0)