Boat details
(n°452)
Boat details
(n°452)
GBR-4
Essentials
Designer
Charles A. Nicholson (GBR)
Builder
Camper & Nicholson, Camper & Nicholson
Material
Mahogany, carvel planked
1st certificate issued
01-01-1952
Original boat name
Yeoman IV
Original country
Original sail number
4
Current location
Sydney, Watsons Bay (AUS)
Yeoman IV - Watson's Bay : Following Sep-2010 Restoration (1)
(credits : Doug Cameron / Ross Hewitt)
Added by ROSS HEWITT
on 2011-07-15
Photo Gallery (6)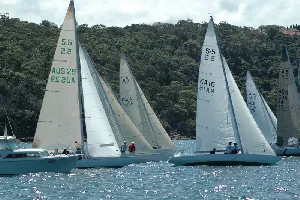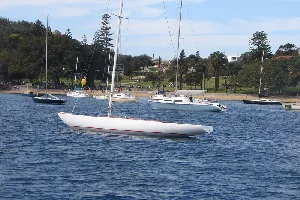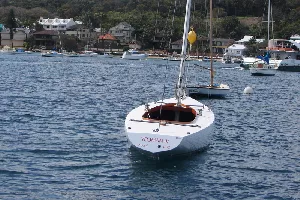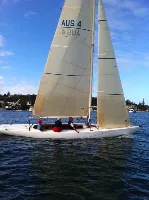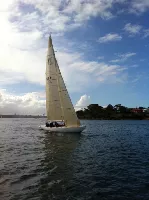 Notes (5)
5.5 KA-4
06-03-2010
Info received from Warren Muir:
"...KA-4, Yeoman IV; originally owned by Owen Aisher, as K-4..."


Designer
27-08-2009
Both Yeoman IV and V were designed by Young Charlie and that's Charles Arthur Nicholson. Ian Dear, Camper & Nicholsons two centuries of yacht building, 2001 Quiller Press Ltd.
GBR-4: Yeoman V
21-08-2009
According to information from the National Maritime Museum in Greenwich, UK (from their Camper & Nicholsons Ltd files and Lloyd's Register of Yachts), GBR-4 (K-4) was Yeoman V.
Owned by Owen A. Aisher 1955-61, and designed and built 1955 by Camper & Nicholsons (Design No A102, Yard No 810).

Yeoman IV was built in 1952 by Camper and Nicholsons, Yeoman IV (Yard No 789), presumably for Owen A. Aisher.
She sailed in the 1952 Olympics for the Bahamas with sail number K-4.

Could there have been two boats with sail number K-4?
More
Document library (0)
Yeoman IV - Watson's Bay : Following Sep-2010 Restoration (1)
(credits : Doug Cameron / Ross Hewitt)
Added by ROSS HEWITT on 2011-07-15
Ownership history (2)
Sail#
Name
Owner
GBR-4
"Yeoman IV"
AUS-4
"Yeoman IV"
Results History (0)
Links Library (1)
23-12-2020
(Ample historic info & the archive)