Boat details
(n°445)
Boat details
(n°445)
GBR-3
Essentials
Designer
David Boyd (GBR)
Builder
George N. Robertson, Alexander Robertson & Sons Ltd., Sandbank, Clyde, Scotland (GBR)
Material
Mahogany, carvel planked
1st certificate issued
01-01-1951
Original boat name
Maryllis
Original country
GBR
Original sail number
3
Current location
5.5 K-3 "Maryllis" : Upwind
(credits : David Hutchison)
Added by Kaspar Stubenrauch
on 2018-01-06
Photo Gallery (2)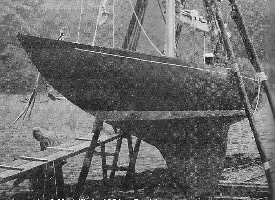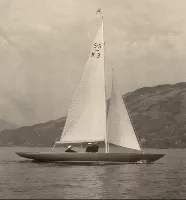 Notes (4)
5.5 K 3 > 5.5 US ?? - Boat search
07-05-2023
The last known location was Newport Beach, California. Who can give input as to where the boat might be today.
5.5 US ?? "Maryllis" - ex K 3
21-02-2023
Info on her US-sailnumber is most welcome! Who can contribute data?
5.5 K-3 "Maryllis" - historical information
06-01-2018
David Hutchison reports on building number 278 of the Alexander Robertson & Sons Ltd. boatyard:
"... 35.5', 5 ton (lbs), 5.5 Metre designed by David Boyd to International Racing Class yacht rules. Built for Col J E Harrison. Lieutenant - Colonel John Egerton Harrison of the Grenadier Guards was a wealthy landowner who lived at Marwell Hall, Owslebury from 1932. Sail area 289. Owned by Bolton C Molse Jnr, of Riverside California and based at Newport Beach, California in 1960 (last entry in Lloyd's Register of Yachts). J E Harrison bought 3 Robertson racing yachts: Marletta 6m 1947 No 257; Maryllis 5.5 m 1951 No 278; Marylette 6m 1953.
More
Document library (2)
Document
Size
By / When
878 Kb
878 Kb
757 Kb
757 Kb
5.5 K-3 "Maryllis" : Upwind
(credits : David Hutchison)
Added by Kaspar Stubenrauch on 2018-01-06
Ownership history (1)
Sail#
Name
Owner
GBR-3
"Maryllis"
Results History (0)
Links Library (1)
06-01-2018