Boat details
(n°427)
Boat details
(n°427)
SUI-191
Essentials
Designer
Doug Peterson (USA)
Builder
Harry C. "Buddy" Melges, Melges Boat Works, Zenda, Wisconsin (USA)
Material
GRP
1st certificate issued
20-04-1994
Original boat name
Onyx-Abraxas
Original country
USA
Original sail number
191
Current location
Glückstadt, Elbe (GER)
5.5 CAN 78 "phénix" - in Cannes : Testing the boat, before the races
(credits : Kaspar Stubenrauch)
Added by Kaspar Stubenrauch
on 2016-10-08
Photo Gallery (18)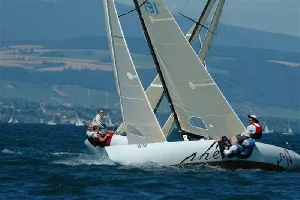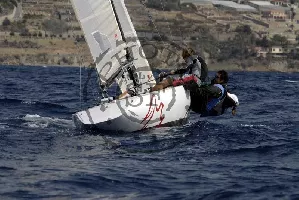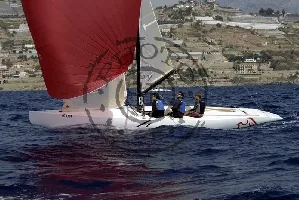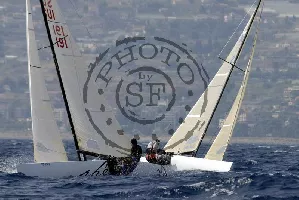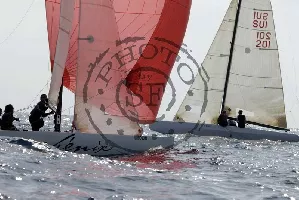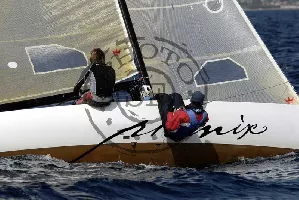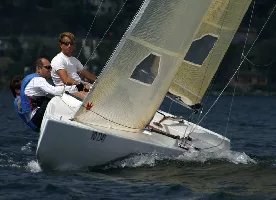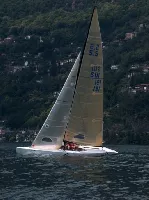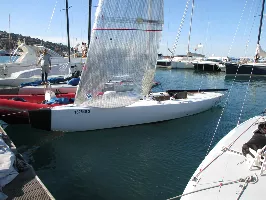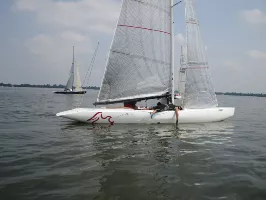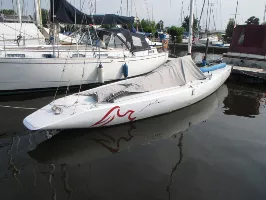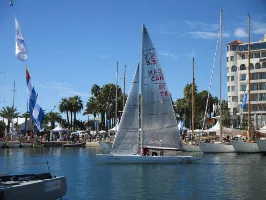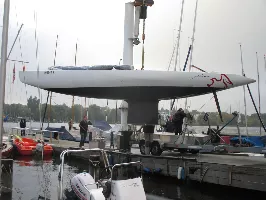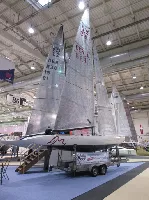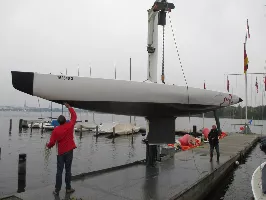 Notes (3)
5.5 GER 81 & her sisters
21-05-2020
This Doug Peterson design proved to be the most successful of the 90's. Seven sisterboats were built by MELGES Boatworks, the boats shown here with their respective sailnumbers over the years:
Z-181 > NOR 61 > SWE 65
L-40 > SUI 200 > FRA 50
US-97 > AUS 82 > GER 82
NOR 57 > NED 21 > AHO 1 > AUS 64
K-39 > GER 39 > SUI 196
Z-189 > GER 84
Z-191 > GER 81 (Cannes 2016: CAN 78)
"phénix" - expected in Cannes
14-09-2016
John Lister reports, that the Canadian Sailing Federation has given the go for sailnumber CAN 78, to be used for the French Open in Cannes, in September. A big welcome to John Lister & Crew in Europe and Thanks to the owner of the boat for giving this opportunity.
Moving up in category - The Greifswald team
07-06-2013
After having raced many years with "Choc", a 1960 Classic, the crew became owner of a Muir/Lexcen designed Evolution boat, GER 75 "Above the Line". Now, it is on to the next design progress, with the purchase of SUI 191 "Phénix", now GER 81. A Modern, next?
Document library (1)
Document
Size
By / When
268 Kb
268 Kb
5.5 CAN 78 "phénix" - in Cannes : Testing the boat, before the races
(credits : Kaspar Stubenrauch)
Added by Kaspar Stubenrauch on 2016-10-08
Ownership history (5)
Sail#
Name
Owner
SUI-191
"Onyx-Abraxas"
SUI-191
"Phénix"
GER-81
"Phénix"
CAN-78
"phénix"
GER-81
"phénix"
Results History (3)
Year
Rank
Race / Location
Skipper
Added by, on
Race :
Swiss Championship /

Location :
Ascona
Skipper :
Alain Marchand-Jacques Charbon-Norbert Jotterand
Race :
World Championship /

Location :
San Remo ITA
Skipper :
Alain Marchand-Jacques Charbon-Norbert Jotterand
Race :
Saisonausklang (NRV) /

Location :
Alster, Hamburg (GER)
Links Library (0)