Boat details
(n°409)
Boat details
(n°409)
DEN-1
Essentials
Designer
Arvid Laurin (SWE)
Builder
Børge Børresen, Børresen (DEN)
Material
Mahogany, carvel planked
1st certificate issued
01-01-1950
Original boat name
Halvan
Original country
DEN
Original sail number
1
Current location
5.5 D-1 "Halvan" - exported to Canada : Ready to be loaded onboard
(credits : Danske Lystbåde bd. 2 1940-1986, Jan Ebert)
Added by Kaspar Stubenrauch
on 2009-06-28
Photo Gallery (1)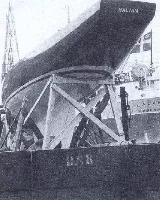 Notes (3)
5.5 KC 5 "Halvan" - lost
05-08-2017
Allan Leibel reports: "..."Halvan" was never sold to the USA. The boat went through a series of Toronto owners after my uncle sold her, and the boat was ultimately demolished as the planking and ribs decayed.
5.5 D-1 "Halvan" - sold to USA
03-01-2009
The first Danish 5.5 was later sold to the USA.
Den 001
08-03-2008
I read that the boat was built for Kaj Wolhart. And the name of the boatyard should be Børresen, situated in Veile, Denmark
Document library (0)
5.5 D-1 "Halvan" - exported to Canada : Ready to be loaded onboard
(credits : Danske Lystbåde bd. 2 1940-1986, Jan Ebert)
Added by Kaspar Stubenrauch on 2009-06-28
Ownership history (3)
Sail#
Name
Owner
DEN-1
"Halvan"
CAN-5
"Halvan"
CAN-5
"Halvan"
Results History (0)
Links Library (0)