Boat details
(n°403)
Boat details
(n°403)
NOR-2
Essentials
Designer
Jan H.Linge (NOR)
Builder
Toralf Westermoen, Westermoens Batbyggeri og Meg Verksted, Mandal (NOR)
Material
Mahogany, carvel planked
1st certificate issued
01-01-1950
Original boat name
Perhaps
Original country
NOR
Original sail number
2
Current location
5.5m NOR-2 Perhaps in Sweden : In the Sandhamn Regatta in July 1950
(credits : Oscar Norbeg / Swedish National Maritime Museums, the Maritime Museum)
Added by Matias Johansson
on 2010-03-25
Photo Gallery (2)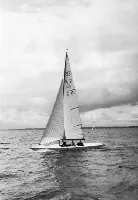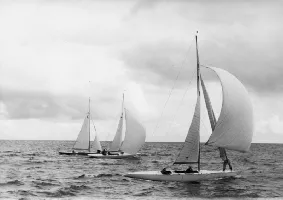 Notes (2)
5.5 NOR 2 Perhaps
15-08-2021
The working name for the design was LurLing. Every Linge boat ended with Ling. lur means smart

Plans for 5.5 N 2 in Oslo
26-03-2020
The Norwegian Maritime Museum is holding 1950 drawings by Jan H. Linge, for a 5.5mR boat called "Luringen". The only 1950 Norwegian boat designed by Jan H. Linge, to which that could apply is 5.5 N 2. An assumption from Mikkel is, that "Luringen" could have been the working title for this boat.
Document library (0)
5.5m NOR-2 Perhaps in Sweden : In the Sandhamn Regatta in July 1950
(credits : Oscar Norbeg / Swedish National Maritime Museums, the Maritime Museum)
Added by Matias Johansson on 2010-03-25
Ownership history (3)
Sail#
Name
Owner
NOR-2
"Perhaps"
CAN-12
"Gjoa"
CAN-12
"Gjoa"
Results History (0)
Links Library (1)
30-05-2020