Boat details
(n°399)
Boat details
(n°399)
SWE-27
Essentials
Designer
Einar Ohlson (SWE)
Builder
Carl Andersson, Sundsandviks Båtvarv (SWE)
Material
Mahogany on ash, carvel planked
1st certificate issued
01-08-1956
Original boat name
Fantasi
Original country
SWE
Original sail number
27
Current location
Peculiar, East Fork East Branch South Grand River, MO (USA)
5.5 S-27 "Fantasi" - now in the USA : Woodwork ahead
(credits : Mike Fisher)
Added by Kaspar Stubenrauch
on 2016-08-12
Photo Gallery (2)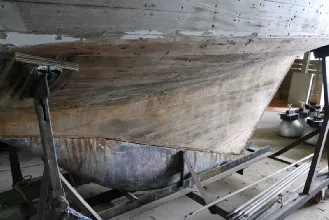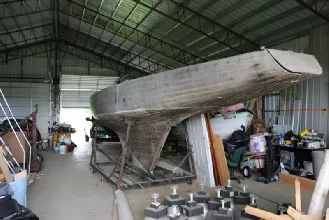 Notes (3)
5.5 USA 28 - historic comments
04-03-2019
Mike Fisher Reports:
"...Mr. Taylor provided me with a California registration, which Wolfe and Richter had signed. However, Mr. Taylor indicated he had purchased the boat from the Kohler Kraft boat yard. He performed quite a bit of work on the boat, including replacing floors, frames and rebuilding the inner keel. He also started to install cedar veneer over the original mahogany planking. He used ferrous staples which are rusting. I don't know if he actually renamed the boat; however he included naval architect drawings for the inner keel work. The drawings referred to the boat as the sloop "Judith"..."
"..
Owner
12-08-2016
The boat was (as I remember) built by Sundsandviks Båtvarv ( later to become the Nötesunds Båtvarv) and designer was Einar Ohlson.
Owner
12-08-2016
This boat was built by Mr Gunnar Andersson of Gothenburg. He was the owner and also managing director of the company AB Telfa, which was marketing sailboats worldwide ( Kings Cruiser 28 designed 1954 and others) and also marine equipment, such as Jabsco pumps and Morse controls for the Swedish market.
Document library (1)
Document
Size
By / When
778 Kb
778 Kb
5.5 S-27 "Fantasi" - now in the USA : Woodwork ahead
(credits : Mike Fisher)
Added by Kaspar Stubenrauch on 2016-08-12
Ownership history (7)
Sail#
Name
Owner
SWE-27
"Fantasi"
USA-28
"Fantasi"
USA-28
"Estelle Dunbar 8"
USA-28
"Fantasi"
USA-28
"Fantasi"
USA-28
"Judith"
USA-28
"Fantasi"
Results History (0)
Links Library (1)
02-02-2023
(Also for 5.5 USA 28 "Fantasi")