Boat details
(n°394)
Boat details
(n°394)
NOR-20
Essentials
Designer
Bjarne Aas (NOR)
Builder
Bj. Aas, Bjarne Aas Båtbyggeri, Fredrikstad (NOR)
Material
Mahogany hull, plywood deck
1st certificate issued
20-05-1960
Original boat name
Rock´n Roll
Original country
NOR
Original sail number
20
Current location
Flensburg, Flensburg Firth (GER)
5.5 SWE 55 "Rock'n Roll" : Mooring
(credits : Björn Kleman)
Added by Kaspar Stubenrauch
on 2008-02-23
Photo Gallery (6)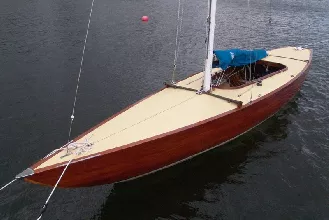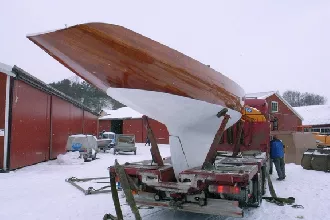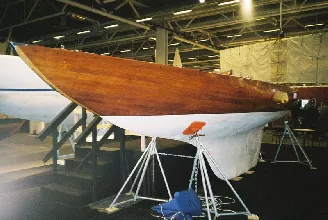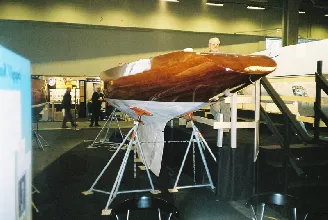 Notes (4)
5.5 GER 68 "Rock'n Roll" - in renovation
15-02-2023
The boat has found a new owner, who is putting the hull through a complete keel-off renovation. She is expected back to the race course for 2024.
Nirvana
27-01-2009
In 1967-68 (at least) the name is Nirvana VI and the skipper Ivar Ryder. In -67 he participated in King Olav Cup and Landsregatta Horten, and in 1968 in the Open Scandinavian Championship and King Olav Cup.
5,5 NOR 20 "Rock`n Roll"
08-03-2008
She was built for the 1960 Olymoics and sailed the first couple of seasons by Peder Lunde who repeented Norway both in 1952 (silver) and 1956 (5th). She was however not very fast and was beaten in rthe trials by Finn Chr. Ferner who sailed NOR 18, "Struten", designed by Jan Herman Linge.
More
Document library (0)
5.5 SWE 55 "Rock'n Roll" : Mooring
(credits : Björn Kleman)
Added by Kaspar Stubenrauch on 2008-02-23
Ownership history (7)
Sail#
Name
Owner
NOR-20
"Rockn Roll"
NOR-20
"Rockn Roll"
NOR-20
"Nirvana VI"
SWE-55
"Smuggler"
SWE-55
"Rockn Roll"
GER-68
"Rock'n Roll"
GER-68
"Rock'n Roll"
Results History (0)
Links Library (1)
12-02-2015
(Construction drawings for NOR-20 Rock'n'Roll are available at the Finnish Maritime Museum)