Boat details
(n°364)
Boat details
(n°364)
SWE-22
Essentials
Designer
Roy Sherman (USA)
Builder
AB Lidingövarvet, (SWE)
Material
Mahogany, carvel planked
1st certificate issued
01-01-1954
Original boat name
Ran II
Original country
SWE
Original sail number
22
Current location
SWE-022 Ran II : Lennart Ohlson sailing Ran II in KSSS Spring Regatta
(credits : Unknown photographer / Swedish National Maritime Museums, the Maritime Museum)
Added by Matias Johansson
on 2011-09-30
Photo Gallery (2)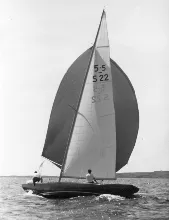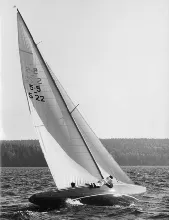 Notes (1)
RAN II
02-03-2008
The original name of S 22 is Ran II. She was designed by Roy Scherman and built at Lidingövarvet (Stockholm) in 1954 or 1955 (since KSSS yearbooks don´t cover the "real" years but the budget years it is sometimes impossible to know what year they are talking about)

She was built for Lennart "Ran-Olle" Ohlson and it seems that he kept the boat until the mid 60´s when he appears in Ran IV, ex Nowa S32.

For some reason S22 Ran II becaomes S22 Ran III around 1959. Maybe he had the boat modified?

Why S22 is named Marina (Gösta Svensson) somewhere I don´t know.
Document library (0)
SWE-022 Ran II : Lennart Ohlson sailing Ran II in KSSS Spring Regatta
(credits : Unknown photographer / Swedish National Maritime Museums, the Maritime Museum)
Added by Matias Johansson on 2011-09-30
Ownership history (2)
Sail#
Name
Owner
SWE-22
"Ran II"
SWE-22
"Ran III"
Results History (0)
Links Library (0)