Boat details
(n°362)
Boat details
(n°362)
SWE-12
Essentials
Designer
Arvid Laurin (SWE)
Builder
Carl-Ivar & Dag William, Motala Båtvarv (SWE)
Material
Mahogany, carvel planked
1st certificate issued
01-01-1952
Original boat name
Dunungen XI
Original country
SWE
Original sail number
12
Current location
Mondsee (AUT)
"Marylin" - in Austria : Side view
(credits : Tischlerei Poeckl)
Added by Kaspar Stubenrauch
on 2017-07-16
Photo Gallery (4)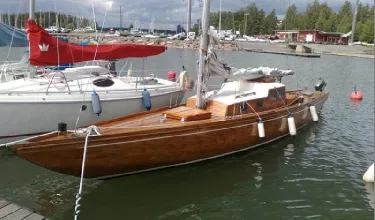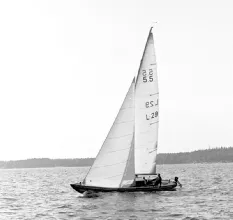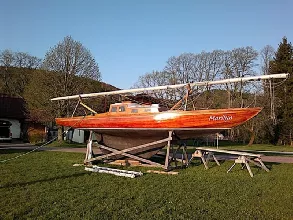 Notes (6)
Data transfer - origin for Z 19 proven to have been S 12
29-04-2018
5.5 Z-19 / An original or an alias boat? - 28.06.2008 by Kaspar Stubenrauch There is a possiblity that she is original Swedish, maybe 5.5 S-12 or another Swedish boat. Anyone having info on the origin of this boat, please place a note.
Data transfer, re L-29 & S-12
03-08-2017
5.5 AUT 23 "Marilyn" - preliminary sailnumber - 22.04.2011 by Kaspar Stubenrauch
AUT 23 is a preliminary sailnumber only, for now, until an official registration might take place. edit5.5 FIN 29 - Data transfer / Search for origin - 27.12.2010 by Kaspar Stubenrauch
Due to the uncertainty of the origin of 5.5 FIN 29, data is transferred from SWE 20, to which apparently no connection is given.

Does SWE 20 match FIN 29? - 31.10.2010 by Gurvan Jaouen
This is to be more checked with other period pictures of these boats...
Having closely looked at the original picture showing SJORAET in 1955, her counter seems quite different from the one of MARILYN, this last having a "classical" counterboard, not a reverse one as appears to be SJORAET's.

5.5 S-20 / exported to Finland? - 09.07.2009 by Kaspar Stubenrauch
5.5 FIN 29 "Marilyn", is an Arvid Laurin design from 1954. We do not have proof of her origin yet, however the nearest match is 5.5 SWE 20, hence we do add the actual Finnish data to this Swedish boat. Anyone having more info or corrections, please place a note
5.5 S-12 to have become L-29 - an assumption
16-07-2017
A report from Matias Johansson: "...Mr. Heikki Wanhatalo was the second owner in Finland and he named the boat Marilyn. The first one was Mr Tapio Hase. Mr. Wanhatalo said the boat was a Laurin and probably built in Saltsjöbaden, maybe in 1954. She had been in Norway before being sold to Finland and may have had the sail number NOR-12 or SWE-12..."
As N-12 is a Bjarne Aas design, we do take the S-12 reference as Basis for combining former S-12 with L-29, despite the Motola vs. Saltsjöbaden origin.
Any pictures from the 60's and 70's will be most welcome, to give further proof of the assumption - or, to open up another route of research.
More
Document library (1)
Document
Size
By / When
829 Kb
829 Kb
"Marylin" - in Austria : Side view
(credits : Tischlerei Poeckl)
Added by Kaspar Stubenrauch on 2017-07-16
Ownership history (7)
Sail#
Name
Owner
SWE-12
"Dunungen XI"
SUI-19
"Bambinou"
SUI-19
"Desirée"
SUI-19
"Desirée"
SUI-19
"Desirée"
FIN-29
"Marilyn"
AUT-23
"Marilyn"
Results History (0)
Links Library (0)