Boat details
(n°315)
Boat details
(n°315)
AUS-43
Essentials
Designer
Warren Muir (Australia)
Builder
Warren Muir, (Australia)
Material
Cold moulded wood
1st certificate issued
03-07-1984
Original boat name
Nangarina
Original country
Australia
Original sail number
43
Current location
Arradon, Golfe du Morbihan, Bretagne (FRA)
Nangarina :
(credits : Warren Muir 25.03.08)
Added by Site Administrator
on 2008-05-05
Photo Gallery (1)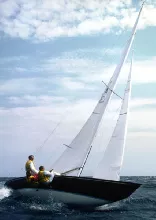 Notes (7)
5.5 KA-43 "Nangarina"
04-02-2010
Info from Warren Muir: KA-42 and KA-43 have been built from one design.

First owner
30-11-2008
Colin Ryan writes: "Aus43/Nangarina was the first 5.5m that I built/had built '83/84 > Warren Muir> I sold it to Tim Herbet whilst nearing completion and he took it to the "84 wc in Porto Cervo Sardinia."
Nangarina KA-43 is Adrenalin is Claudia K-37 is Lady Blue FRA-49
28-11-2008
When surfing in my PC, I found out that Nangarina KA-43 and Claudia K-37 are same boats. I found the boats in my archives. I put the certifcates aside and noticed that they have identical measures. As a measurer I know that they are same boats.
I met Claudia and Peter Andreae in Helsinki and picked the certificate. I was watching the European Championship races in Helsinki 1991. The blue painted Claudia won the first race in a very light drifting breeze. Peter Andreae sold the boat to France after he got Candida 3, the Peterson boat. Later I saw Claudia and Peter Shanks in Dronningen KNS Oslo during the King's series.
At present Claudia is in France having sail letters FRA-49 and name Lady Blue owner Laure Mouton in Arradon (French list).
Australian Jeremy Goodman brought the boat to Europe. The boat raced in Hankö World Championship using the name Adrenalin (was 26th , 21-21-22-30-24-28-16). Peter Andreae raced the boat in Torquay World Championship 1990 (was 18th) and in Helsinki Europeans 1991 (was 9th, 1-10-18-10-13). Peter Shanks from Youngwoods Isle of Wight sailed the boat in the Bahamas World Championship 1992 (was 10th, 2-11-11-27-10-22-14). 1997 it raced in Crouesty Europeans helmed by the French A. Chaudoye using name Claudia K-37 and finishing 21th. Then it disappears from international racing.

More
Document library (2)
Document
Size
By / When
656 Kb
656 Kb
1.46 Mb
1 Mb
Nangarina :
(credits : Warren Muir 25.03.08)
Added by Site Administrator on 2008-05-05
Ownership history (6)
Sail#
Name
Owner
AUS-43
"Nangarina"
AUS-43
"Nangarina"
AUS-43
"Adrenalin"
GBR-37
"Claudia"
GBR-37
"Claudia"
FRA-49
"Lady Blue"
Results History (0)
Links Library (0)