Boat details
(n°305)
Boat details
(n°305)
BAH-6
Essentials
Designer
Britton Chance Jr. (USA)
Builder
Hermann Egger, Egger H., St.Aubin (SUI)
Material
Laminated wood
1st certificate issued
15-03-1971
Original boat name
John B5
Original country
SUI
Original sail number
6
Current location
Thonon, Lake of Geneva (FRA)
FRA 139 May-Be : 2005 Thonon
(credits : SNLF)
Added by François Bouvier
on 2009-07-06
Photo Gallery (2)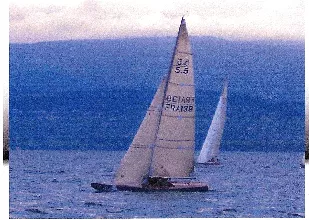 Notes (6)
John B5 & 6
24-04-2008
Bobby symonette writes:
"In 1971 Britton Chance designed two yachts, one for H.R.H. Prince Sadruddin Aga Khan and the other a new JOHN B for R.H. Symonette. These boats were built with near minimum sail area and near minimum displacement with distinct canoe bodies and minimum filleting between the hull and keel and had trim tabs…….
In the surfing conditions in Australia JOHN B5 won the Gold Cup in 1974. However, she never reached a single weather mark first and, in fact, beat SKAGERAK, the new Luders design with similar keel and separate rudder, without a trim tab, and with maximum displacement and sail area, to only four marks in the entire series. Three of these marks were the finish marks for the three races necessary to win the Gold Cup! The design had produced the desired results in surfing conditions off wind and, is undoubtedly, the fastest reaching boat in the Class and very fast running……
In the winter of 1975 Hermann Egger (the builder of JOHN B5) worked on her lines and shortened the waterline to gain more sail. Thus, the boat while still near minimum weight picked up additional sail area. The trim tab had not helped the performance perceptibly and was fixed and the controls eliminated. The ballast displacement ratio at 72% after the change is nearer the 75%, 77% being obtained in other. boats.
In this change JOHN B6 has suffered slightly on downwind performance but the upwind performance in most conditions has improved considerably. In 1977 she was second in the World's Championship, and won the Gold Cup, off Benodet in moderate conditions with some slop which hurt going to windward but also enough sea so that she could occasionally surf downwind.
Please delete all notes below!
John B5 and John B6
30-03-2008
According to Matti, these are the same boat which has been modified by Hermann Egger in 1975 and then renamed John B6.
Result of BA-1 (BA-4) John B3 in Copenhagen 5th World 5.5m Championship
19-02-2008
22) Robert H. Symonette, John B3 BA-1, A. E. Luders Jr. 1963 (33-8-21-dnf-16-7-dns) 168.0 pts
More
Document library (1)
Document
Size
By / When
2.16 Mb
2 Mb
FRA 139 May-Be : 2005 Thonon
(credits : SNLF)
Added by François Bouvier on 2009-07-06
Ownership history (4)
Sail#
Name
Owner
BAH-6
"John B5"
BAH-6
"John B6"
SUI-139
"May Be V"
FRA-57
"May Be"
Results History (1)
Year
Rank
Race / Location
Skipper
Added by, on
Race :
World Championship /

Location :
Geneva
Links Library (0)