Boat details
(n°30)
Boat details
(n°30)
FIN-28
Essentials
Designer
Britton Chance Jr. (USA)
Builder
Oy Vator, Vator Oy AB. Helsinki (FIN)
Material
Mahogany, carvel planked
1st certificate issued
01-01-1968
Original boat name
Ca-Ro VII
Original country
FIN
Original sail number
28
Current location
Wijde Aa, Kaag en Braassem (NED)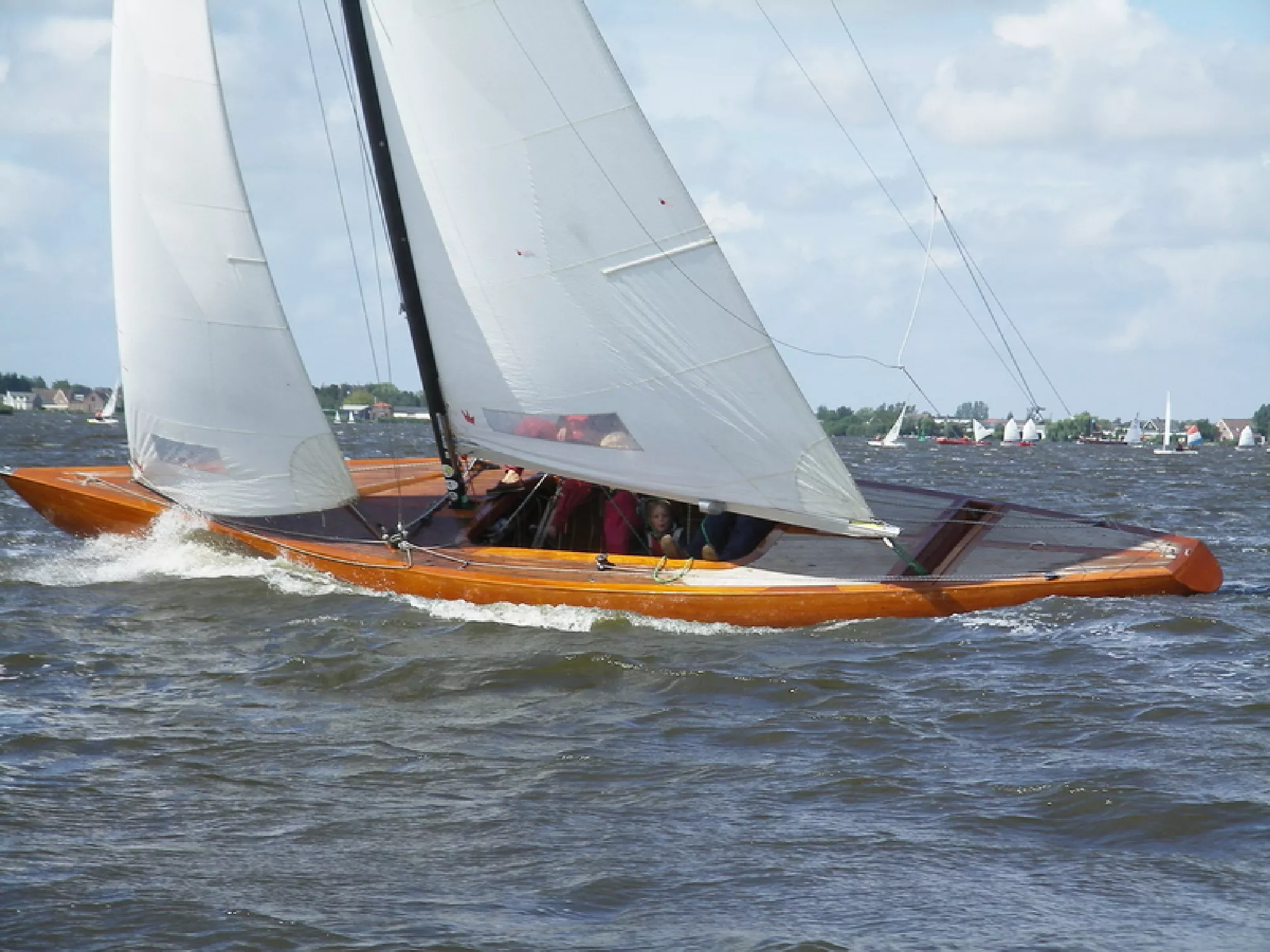 Caro VII- Wood is good : Funregatta 2006 Braassem, NL
(credits : Linda Rijkuiter)
Added by Pieter den Haan
on 2008-07-01
Photo Gallery (5)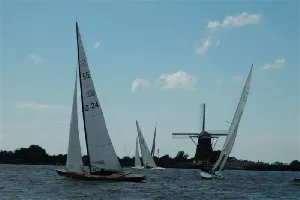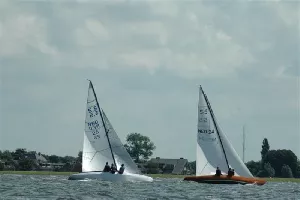 Notes (5)
N 36
29-01-2009
L 28 Ca-Ro VII became S 57. The swedish owner Per Skoglund sold her to Knut Johansson (I think this is the correct spelling) and she became N 36 Brith 2.
In the Worlds in Hankö 1983 N 36 is named Ca Ro again, skipper/owner Henning Bull J:r (who later bought KA 28 = S 59 = N 39 from me)
I think Ca-Ro is the correct spelling, it appears in several old entry lists etc.
Per Skoglund also bought L 30 Patricia of Finland = S 62 and sold her to Knut Johansson = N 37 Brith 3.
Brith 1 was N 19 (at least in 1979)
Caro VII
01-07-2008
We purchased Caro VII in early 1998 from Helsinki I believe as L-28 after which she became NED-24. She never was NED-23 and as far as I know never had a Swiss number; I'd like to know more if there is an enigma. She was modified on a date unknown to me as her original rudder attached to the keel has been shortened to a sort of trimtab which we never use, leaving an unsatisfactory profile on keel. The construction shows that the addded rudder has been tried out on several locations aft in the past. In 1998 she had a Soling rudder aft, replaced in 2005 by a narrower and deeper one.
She is still named Caro VII, the name Flopiarie and later even Flopiariejo was used jokingly in the past reflecting the first names of my family (Florence, Pieter, Adriaan and Johanna) as Ca-Ro does.
Information CaRo VII
10-10-2007
Caro was intruduced during Sandhamn Gold Cup races.
40th Scandinavian Gold Cup 1968 Sandhamn, Sweden, 6 countries
pos) boat, skipper, crew, (R1-R2-R3 / R4-R5 / wins) design year
1) Norway, Fram IV, N-31, Prince Harald, Stein Föjen, Eirik Johannessen (dnf-1-1 / 2-1 / 3) Britton Chance Jr. 1968
2) Sweden, Wasa III, S-40, Sune Carlsson, Börje Larsson, Olle Karlsson (1-2-3 / 1-2 / 2) E. & C-E. Ohlson 1964
Italia, Manuela VII, I-54, G. Zucchinetti, (2-3-2 / exc / 0) Britton Chance Jr. 1968
Denmark, Web IV, D-12, William Berntsen (3-4-4 / exc / 0) Alfred E. Luders Jr. 1966
Bahamas, John B4, BA-1, Robert H. Symonette (4-5-5 / exc / 0) Alfred E. Luders Jr. 1967
Finland, Caro 7, L-28, Robert Jansson (5-6-6 / exc / 0) Britton Chance Jr. 1968

More
Document library (0)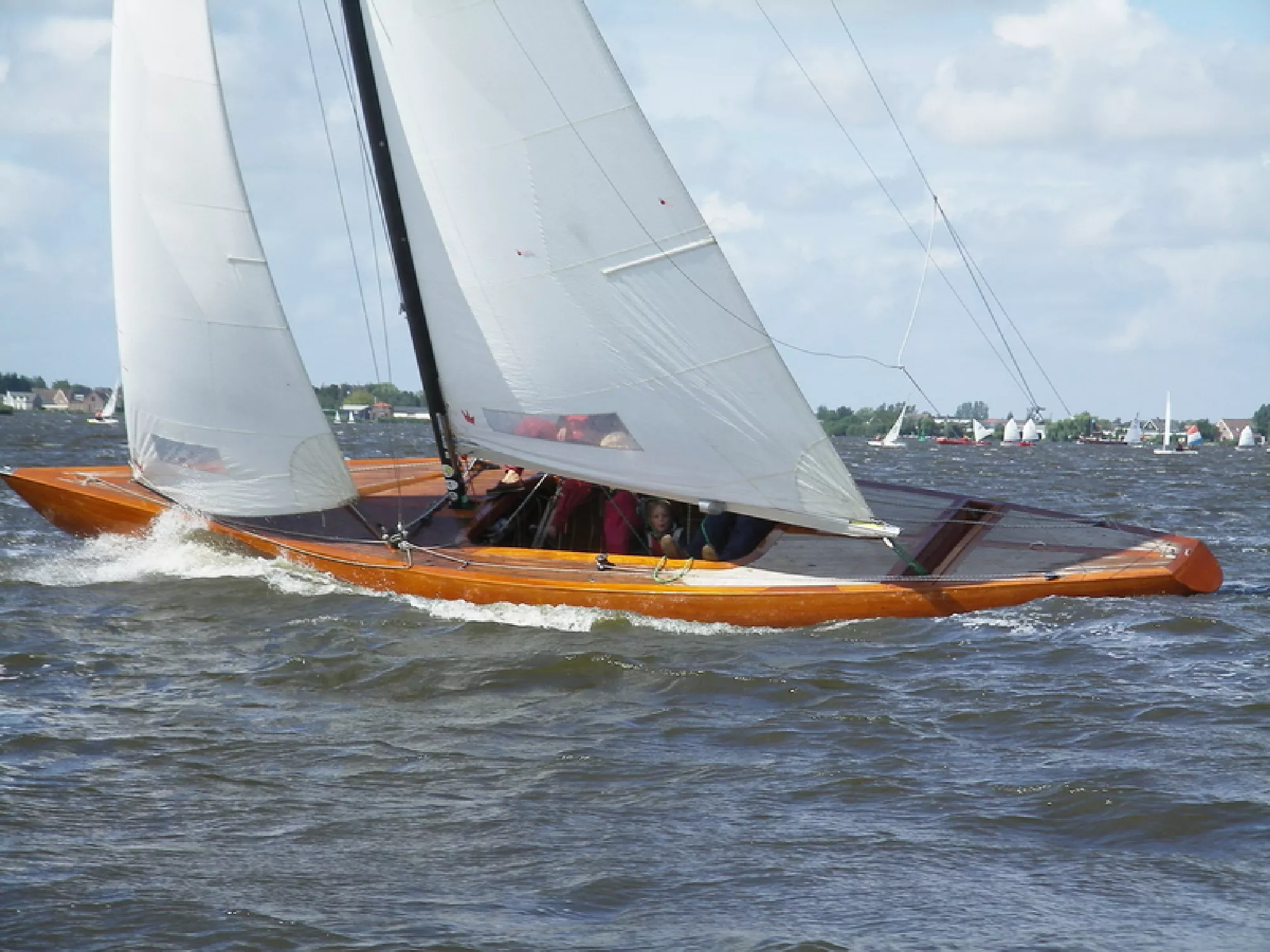 Caro VII- Wood is good : Funregatta 2006 Braassem, NL
(credits : Linda Rijkuiter)
Added by Pieter den Haan on 2008-07-01
Ownership history (5)
Sail#
Name
Owner
FIN-28
"Caro 7"
SWE-57
"Caro 7"
SWE-57
"Ca-Ro 7"
NOR-36
"Brith 2"
NED-24
"Caro 7"
Results History (3)
Year
Rank
Race / Location
Skipper
Added by, on
Race :
40th Scandinavian Gold Cup /

Location :
Sandhamn, Sweden
Race :
World Championship Classics /

Location :
Hanko, Finland
Race :
21st World 5.5 Meter Championship /

Location :
Hankø, Norway
Skipper :
Henning Bull Jr.
Links Library (0)