Boat details
(n°292)
Boat details
(n°292)
SUI-69
Essentials
Designer
Alfred Edward "Bill" Luders Jr. (USA)
Builder
Oy Vator, Vator Oy AB. Helsinki (FIN)
Material
Mahogany, carvel planked
1st certificate issued
14-05-1965
Original boat name
Scatoulitsa IV
Original country
FIN
Original sail number
69
Current location
Helsinki, Baltic Sea (FIN)
Scatoulitsa 4 Z-69 : The vintage Scatoulitsa 4 back in Helsinki sails to win the wooden boat race 2017.
(credits : Scat archives)
Added by Matti Muoniovaara
on 2017-10-30
Photo Gallery (6)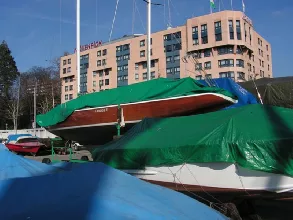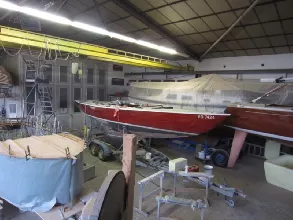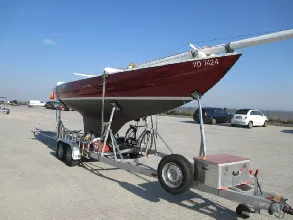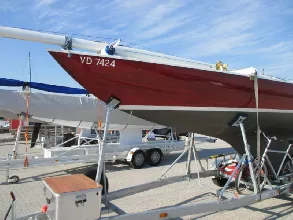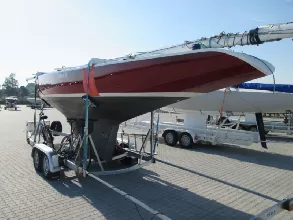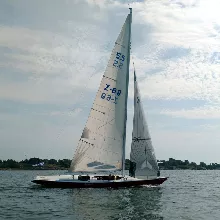 Notes (3)
"Scatoulitsa IV" - in Skovshoved
17-10-2016
The boat has returned to racing, showing up in Skovshoved on Oeresund, in August 2016 for the 5.5m World Championship, hosted by KDY.
Transfer of notes / boat found in Lausanne is SUI 69
09-08-2015
Unknown 5.5 in Lausanne - who knows her? - 02.04.2009 by Kaspar Stubenrauch
Francois found this boat in Lausanne, which is unknown in the local 5.5 scene. Who has knowledge on ownership, yard, design, year?
Looks like mid-end 60's, Chance jr? Could she be the lost G-19?

More informations available by contacting the restauration shipyard...
20-11-2009
End of October 2009, I was visiting Jean-François "Bouboule" Burkhalter in his shipyard in Yverdon-les-Bains (south-west end of lake of Neuchatel, SUI), when he told me about his two latest restaurations of 5.5 : SUI-069 "Scatoulitsa IV" and SUI-081 "Leda II".
Bouboule showed me some pictures of these two wood-works (his know-how is famous), but we didn't have enough time to go further in these subjects.
Anyway, all of these datas are available by contacting him. Just refer to this Inventory research (which has been presented to him).

Jean-François Burkhalter, chantier naval
rue du Parc 14, 1400 Yverdon-les-Bains/VD
Tel. 024 425 74 64 Fax 024 426 32 53
Document library (1)
Document
Size
By / When
411 Kb
411 Kb
Scatoulitsa 4 Z-69 : The vintage Scatoulitsa 4 back in Helsinki sails to win the wooden boat race 2017.
(credits : Scat archives)
Added by Matti Muoniovaara on 2017-10-30
Ownership history (4)
Sail#
Name
Owner
SUI-69
"Scatoulitsa IV"
SUI-69
"Onac"
SUI-69
"Candide II"
SUI-69
"Scatoulitsa 4"
Results History (0)
Links Library (1)
25-07-2015
(Report in a Finnish newspaper, this spring)