Boat details
(n°29)
Boat details
(n°29)
FIN-25
Essentials
Designer
C. Raymond Hunt (USA)
Builder
Oy Vator, Vator Oy AB. Helsinki (FIN)
Material
African mahogany, carvel planked
1st certificate issued
01-01-1964
Original boat name
Caro VI
Original country
FIN
Original sail number
25
Current location
La Spezia, Gulf of La Spezia (ITA)
FIN-025 Caro VI before launching : The fine lines of Caro VI are well visible in this photo
(credits : Anssi Kienanen)
Added by Matias Johansson
on 2011-01-22
Photo Gallery (3)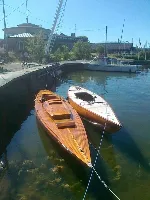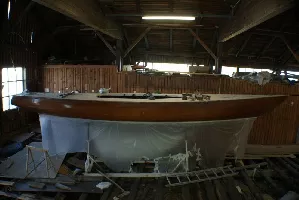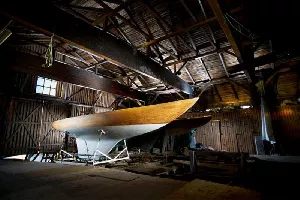 Notes (2)
Caro VI sold to Italy
14-10-2011
Caro VI, a Vator built Ray Hunt design, has been sold to Italy earlier this year.
Long list of sisters
16-11-2010
Caro VI was built from the same drawings by C. Raymond Hunt as MEX-001 Xolotl, SUI-066 Ylliam XVI and ITA-047 Voloira III. The first three were all built by Vator in Helsinki, Finland.
Document library (0)
FIN-025 Caro VI before launching : The fine lines of Caro VI are well visible in this photo
(credits : Anssi Kienanen)
Added by Matias Johansson on 2011-01-22
Ownership history (3)
Sail#
Name
Owner
FIN-25
"Caro VI"
SWE-60
"Carolina"
ITA-29
"Caro VI"
Results History (0)
Links Library (0)