Boat details
(n°286)
Boat details
(n°286)
ITA-46
Essentials
Designer
Einar Ohlson (SWE)
Builder
Oscar Schelin, Kungsörs Båtvarv AB (SWE)
Material
Mahogany, carvel planked
1st certificate issued
01-01-1964
Original boat name
Twins XIII
Original country
SWE
Original sail number
46
Current location
Near Arona, Lago Maggiore (ITA)
Violetta VII : Violetta VII
(credits : AIVE)
Added by Andrea Rossi
on 2016-02-19
Photo Gallery (1)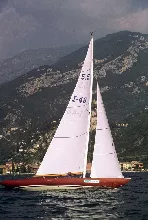 Notes (4)
ITA-o46 Violetta VII
27-05-2009
Twins XIII was renamed Violetta VII by Gino Alquati that took part at Centomiglia del Garda race in 1976 (8th).

Today the owner is Andrea Boroli and Violetta VII is in AIVE archives.
5.5 I-46 "Violetta VII"
14-01-2009
The boat was later named "Violetta VII". Who knows the name of the owner & where is the boat today?
Information
09-02-2008
1963-64 Kungsör built 7 5.5s. 5 of them were Olson designs and two Luders designs. 1963 Rush 7 S-37, Mechtild G-11; 1964 Twins XIII I-46, Sünschien G-13 and Web III D-11. Grifone I-42 was built at Svinevikens Båtvarv.
More
Document library (0)
Violetta VII : Violetta VII
(credits : AIVE)
Added by Andrea Rossi on 2016-02-19
Ownership history (3)
Sail#
Name
Owner
ITA-46
"Twins XIII"
ITA-46
"Violetta VII"
ITA-46
"Violetta VII"
Results History (1)
Year
Rank
Race / Location
Skipper
Added by, on
Race :
Coppa Raimondo Panario /

Location :
Porticiolo
Links Library (3)
27-05-2009
(Associazione Italiana Vele d'Epoca)
16-08-2018
(Reference to Kungsörs Båtvarv AB)
05-02-2023
(Also for 5.5 ITA 46 "Violetta VII")