Boat details
(n°262)
Boat details
(n°262)
SWE-40
Essentials
Designer
Einar Ohlson (SWE)
Builder
S. Carlsson, Sune Carlsson Båtvarv (SWE)
Material
Mahogany hull, plywood deck
1st certificate issued
00-00-1964
Original boat name
Marina II
Original country
SWE
Original sail number
40
Current location
Limhamn (Malmö), Öresund (SWE)
Provided by Rikard Wissing, 01.02.08 : -
(credits : Rikard Wissing)
Added by Site Administrator
on 2008-02-12
Photo Gallery (6)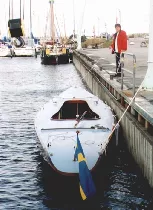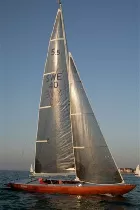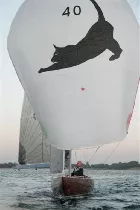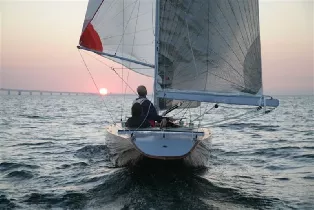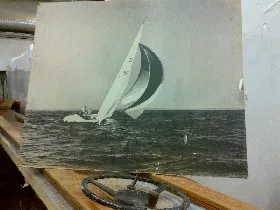 Notes (5)
Complementary datas received from Rikard Wissing 31.01.08
03-04-2008
Exact name and date of current ownership + the pictures.
And an indication on Wasa date : "27-05-1966 WASA III"
Marina II
22-02-2008
The original name of this boat is Marina II. She was built for Gösta Svensson. In 1966 she became Wasa III (Wallenberg-Salén) and sailed by the Sundelin brothers. Sune Carlsson also sailed the boat, but didn´t own it. (So far according to Peter Sundelin). Some years later the owner is Jan Wendin i Gothenburg and in 1974 she became Ran V, owned by Lennart "Ran-Olle" Ohlson. What happens thereafter I don´t know.
5.5 S-40 "Marina II"
17-02-2008
The boat also sailed as "Marina II", possibly at the end of the 60's.
Assumption: Given the name, the owner could have been Gösta Svensson.
More
Document library (0)
Ownership history (7)
Sail#
Name
Owner
SWE-40
"Marina II"
SWE-40
"Wasa III"
SWE-40
"Wasa III"
SWE-40
"Ran V"
SWE-40
"Wasa III"
SWE-40
"Wasa III"
SWE-40
"Stina"
Results History (3)
Year
Rank
Race / Location
Skipper
Added by, on
Links Library (2)