Boat details
(n°237)
Boat details
(n°237)
GO_-14
Essentials
Designer
Willi Lehmann (GO_)
Builder
Willi Lehmann, Yacht- und Bootswerft Gebr. Lehmann, Woltersdorf (GO_)
Material
Mahogany, carvel planked
1st certificate issued
11-08-1964
Original boat name
Marion
Original country
GO_
Original sail number
14
Current location
5.5 GO 14 "Marion" : ...guess who gave the name to this boat...
(credits : )
Added by Kaspar Stubenrauch
on 2008-02-07
Photo Gallery (1)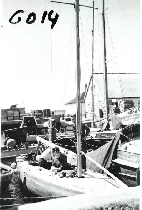 Notes (1)
Exporting 5.5's - Cryptic destinations
10-02-2008
During the 1963 Swiss Championships, Willy Lehmann was asked about his next construction plans and he answered to be working on new developments, GO 14 and GO 15, which were going to be exported to North Korea.
Looking back, this was a way of not publicly saying that the boats would be exported to Western Germany.
The GDR had decided not to participate with 5.5's in the 1968 Olympics anymore and then concentrated fully on the Dragon class - and eventually winning Bronze in the Dragon with Paul Borowski, the former top GDR 5.5m sailor at the helm.
So, a few 5.5' were up for sale. In the end, GO 15 and GO 16 took this way and were sold to West Berlin and to Lake Constance respectively.
The German 5.5m Association is searching for ex GO 14. Anyone who can give a hint to it's whereabouts, please place a note.

Document library (3)
Document
Size
By / When
656 Kb
656 Kb
567 Kb
567 Kb
709 Kb
709 Kb
5.5 GO 14 "Marion" : ...guess who gave the name to this boat...
(credits : )
Added by Kaspar Stubenrauch on 2008-02-07
Ownership history (2)
Sail#
Name
Owner
GO_-14
"Marion"
GER-61
"Marion"
Results History (0)
Links Library (0)