Boat details
(n°219)
Boat details
(n°219)
SUI-23
Essentials
Designer
Henri Copponex (SUI)
Builder
Louis Plojoux, Corsier-Port, Genève (SUI)
Material
Mahogany, carvel planked
1st certificate issued
09-02-1957
Original boat name
Ylliam XII
Original country
SUI
Original sail number
23
Current location
ITA Naples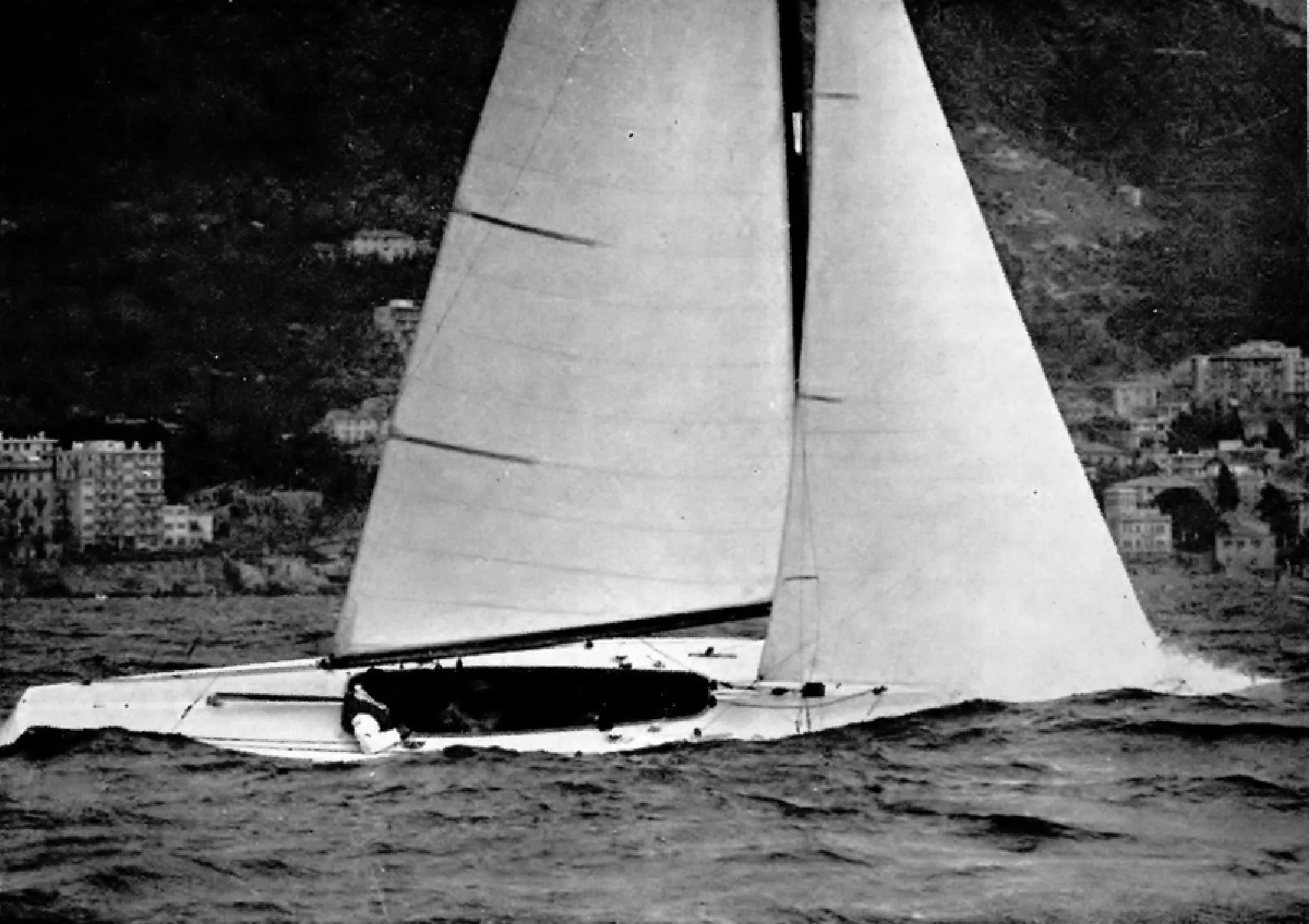 Ylliam XII : Sailing in Genoa 1957 during Coupe de France
(credits : YCI)
Added by Andrea Rossi
on 2016-03-11
Photo Gallery (4)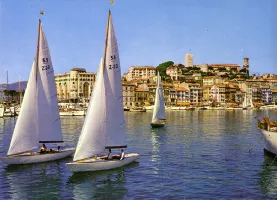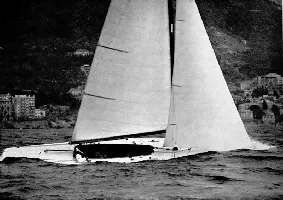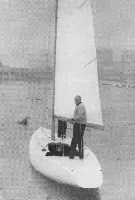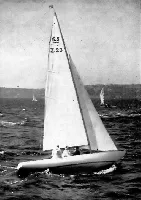 Notes (2)
Ylliam XII
11-03-2016
Ylliam XII raced in Naples in June 1959 last time with Novarrez-Firmenich and was immediatly sold to italian yachtsman Fabbrini.
Fabbrini sailed her in Naples in September same year with name still Ylliam.
In 1960 Fabbrini races with the boat renamed Alkaid and she stays in Golfo di Napoli at least till 1963.
The "Ylliam" 5.5's
28-04-2008
There has been seven 5.5 named "Ylliam" (the other numbers of the dynasty are other metrics or multihulls). "Ylliam" is the anagram of "Mailly", which is the name of the domain owned by the Firmenich family near Versoix, on the Leman lake.
"Ylliam X" is Z-11 (see SUI-011) Copponex/Corsier Port 1955 believably immediately sold to Charles Stern and become "Antiope VII".
"Ylliam XI" is Z-15 (see SUI-015)(and not XII as mentionned by mistake in the rating certificate), Copponex/Corsier Port 1956.
"Ylliam XII" is Z-23 (see SUI-023), Copponex/Corsier Port 1957.
"Ylliam XIII" is Z-32 (see SUI-032), Copponex/Corsier Port 1959.
"Ylliam XIV" is Z-36 (see SUI-036), Ohlson/Kungstor 1960.
"Ylliam XV" is believably Z-39 (see SUI-039), Copponex/Corsier Port 1960.
"Ylliam XVI" is Z-66 (see SUI-066), Hunt/Vator OY 1964.
Story reconstituted together with Pierre Girard and Noël Charmillot at the Musée du Léman on 03.11.06.
Document library (1)
Document
Size
By / When
691 Kb
691 Kb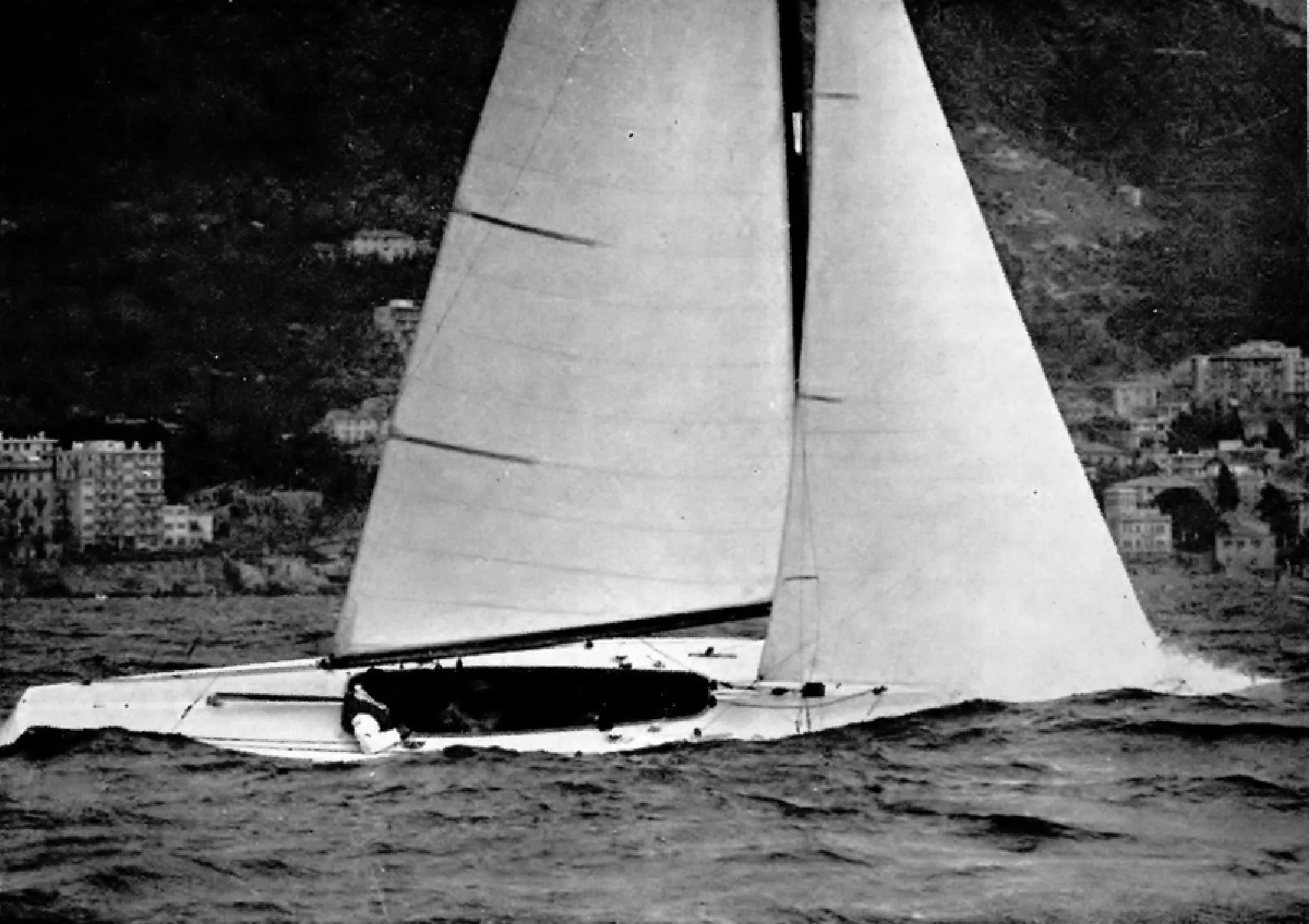 Ylliam XII : Sailing in Genoa 1957 during Coupe de France
(credits : YCI)
Added by Andrea Rossi on 2016-03-11
Ownership history (4)
Sail#
Name
Owner
SUI-23
"Ylliam XII"
SUI-23
"Mayanus"
ITA-26
"Alkaid"
ITA-26
"Ylliam XII"
Results History (5)
Year
Rank
Race / Location
Skipper
Added by, on
Race :
Coupe de France /

Location :
Genoa
Race :
Coppa Metzger /

Location :
Genoa
Race :
Coppa Pozzani /

Location :
Genoa
Race :
Coppa del Re /

Location :
Naples
Race :
Coupe de France /

Location :
Le Havre
Links Library (1)
16-08-2018
(Reference to Kungsörs Båtvarv AB)