Boat details
(n°207)
Boat details
(n°207)
GER-19
Essentials
Designer
Britton Chance Jr. (USA)
Builder
Willi Lehmann, Yacht- und Bootswerft Gebr. Lehmann, Woltersdorf (GO_)
Material
Mahogany, carvel planked
1st certificate issued
10-07-1969
Original boat name
Fortuna V
Original country
GO_
Original sail number
19
Current location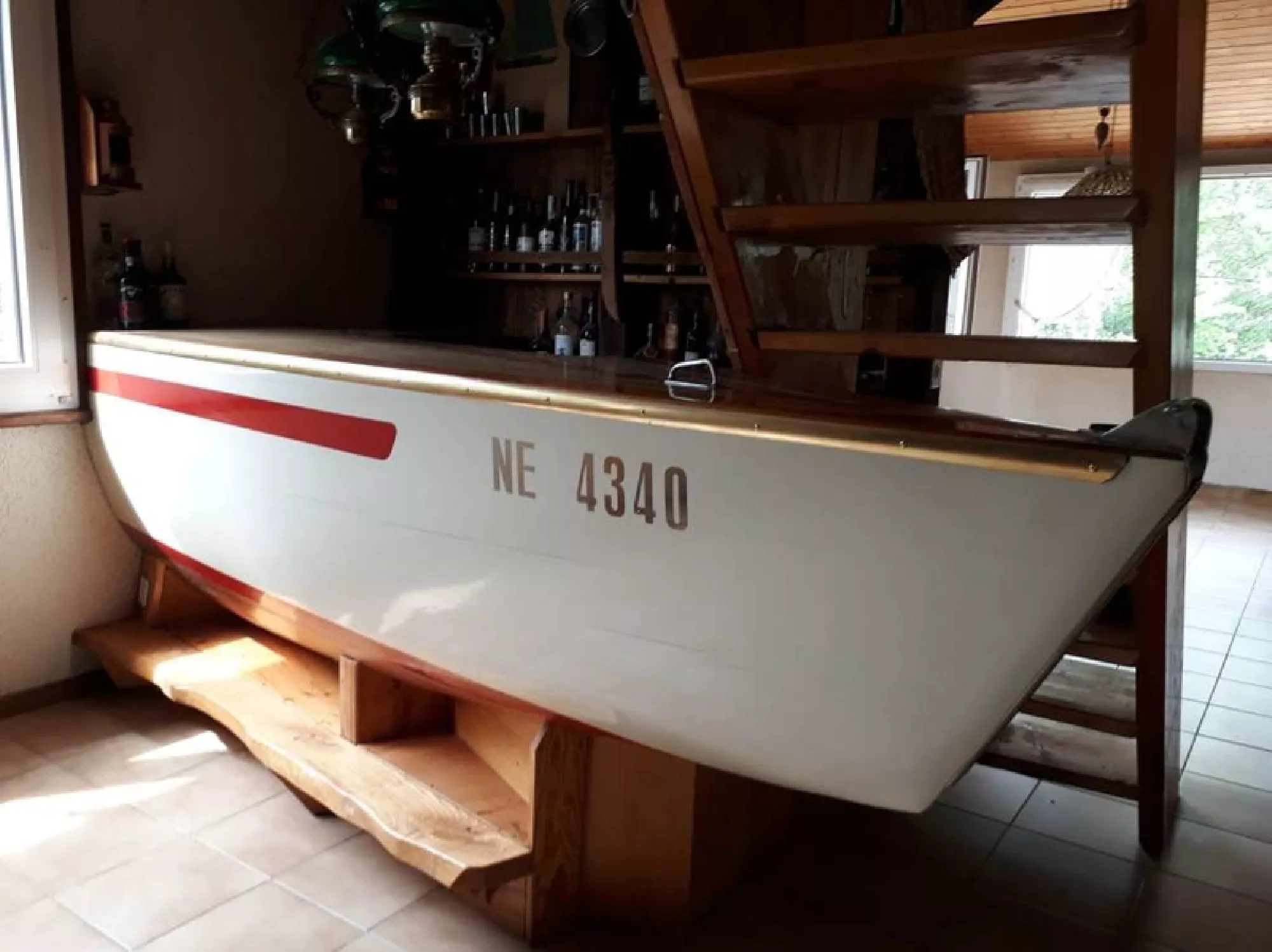 5.5 G 19 "Fortuna V" - modified : The front section of the hull transformed into a bar-unit
(credits : APS-Werft)
Added by Kaspar Stubenrauch
on 2018-10-28
Photo Gallery (2)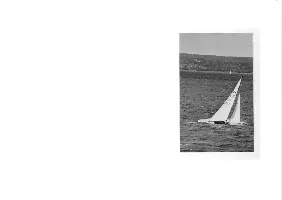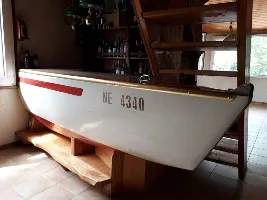 Notes (4)
5.5 G 19 "Fortuna V" - Olympic candidate in 1968
11-03-2021
There had been plans to have this boat being built in time, for competing for the Olympic ticket, in 1968. If it was the direct nomination of G 17 by the German Sailing Federation or another reason, which made the original wish impossible, still has to be researched.
5.5 G 19 "Fortuna" - finally found
22-10-2018
Francois has found the boat, however in a much different state, compared to its sailing times. Part of the hull has been transformed to a restaurant bar unit. This is bringing G 19 into the family of "5.5m-furniture-units", like KA 17 and US 71.
5.5 G-19 sold to Switzerland in 1972 / Lake Geneva?
17-02-2018
It has today been confirmed that this boat was sold to Switzerland, in 1972.
Eventually, she can be found on Lake Geneva, possibly without Swiss 5.5 sailnumber, as she is believed to never have been registered there for racing.
The boat could be similar to Z-91 + Z-92 or to S-50.
This info for those having an open eye, when strolling through harbours on Lake Geneva, next springtime. Please pass info on her location as a note, here.
More
Document library (3)
Document
Size
By / When
859 Kb
859 Kb
858 Kb
858 Kb
776 Kb
776 Kb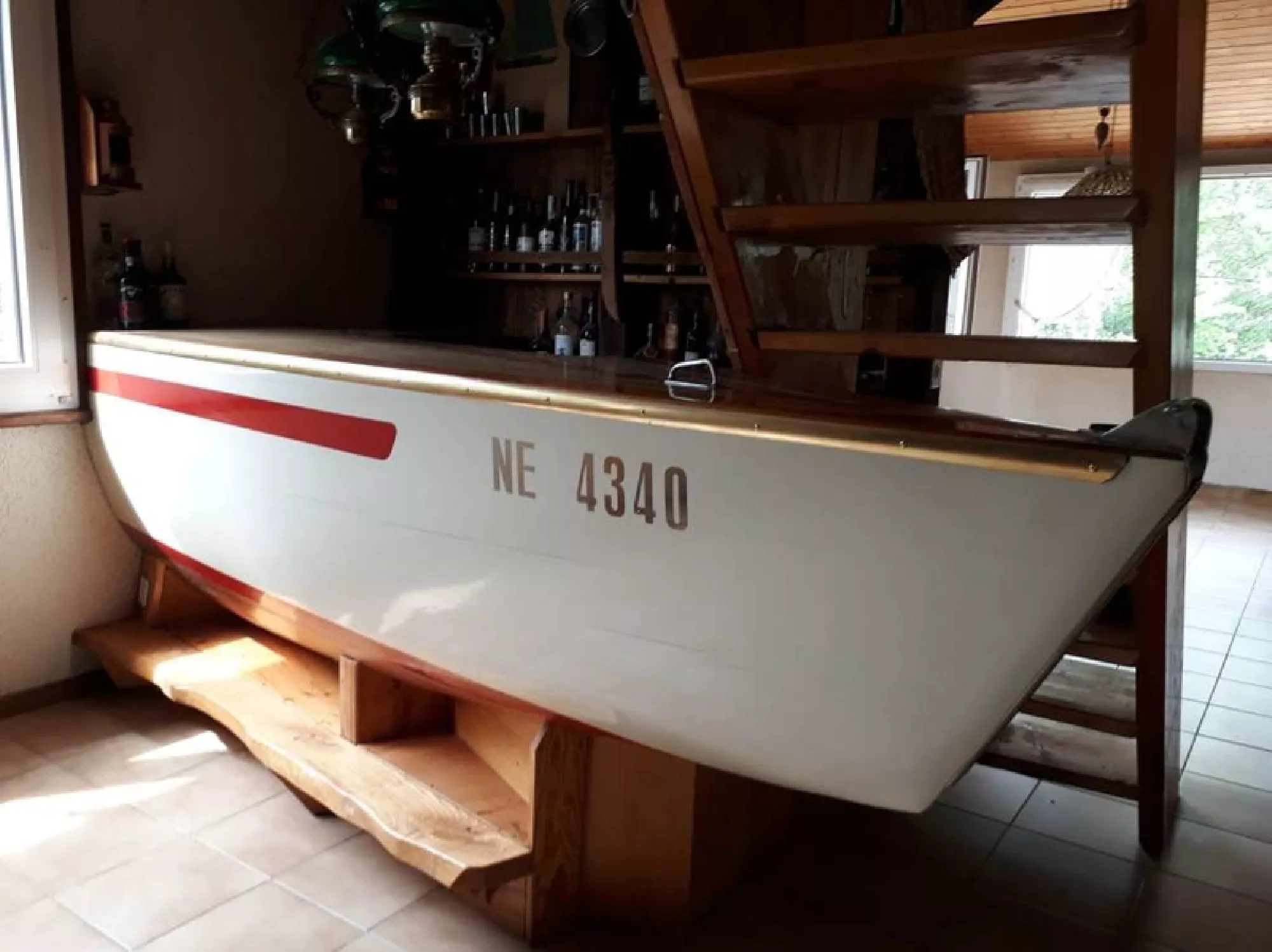 5.5 G 19 "Fortuna V" - modified : The front section of the hull transformed into a bar-unit
(credits : APS-Werft)
Added by Kaspar Stubenrauch on 2018-10-28
Ownership history (1)
Sail#
Name
Owner
GER-19
"Fortuna V"
Results History (1)
Year
Rank
Race / Location
Skipper
Added by, on
Race :
World Championship /

Location :
Geneva
Links Library (1)
27-10-2018
(Could now be serving as a unique bar, at your home)