Boat details
(n°17)
Boat details
(n°17)
FIN-9
Essentials
Designer
Arvid Laurin (SWE)
Builder
L. Wilenius, Wilenius L. Porvoo (FIN)
Material
Mahogany, carvel planked
1st certificate issued
01-01-1952
Original boat name
Vistra
Original country
FIN
Original sail number
9
Current location
Suomenlinna, Helsinki, Baltic Sea (FIN)
Hanko regatta 2019 : At Hanko regatta 2019
(credits : )
Added by Ari Bungers
on 2021-03-15
Photo Gallery (4)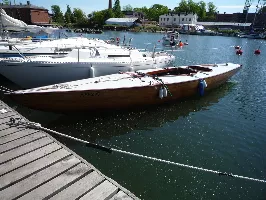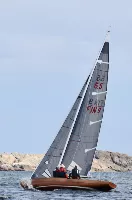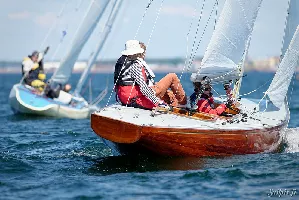 Notes (2)
FIN-009 Vis-a-vis
27-08-2011
Former Ingmar Nylund boat Vis-a-vis (Vistra) is currently located in Suomenlinna, Helsinki, Finland. The doghouse has been removed in early 2000's and she is now in her original racing layout.
Information
19-09-2007
Peter Tallberg sailed this boat in 50's. modified for cruising (roof)
Document library (0)
Hanko regatta 2019 : At Hanko regatta 2019
(credits : )
Added by Ari Bungers on 2021-03-15
Ownership history (1)
Sail#
Name
Owner
FIN-9
"Vistra"
Results History (0)
Links Library (1)
17-10-2007
(Builder of 12 5.5 metres 1950 – 1959)