Boat details
(n°144)
Boat details
(n°144)
USA-55
Essentials
Designer
Alfred Edward "Bill" Luders Jr. (USA)
Builder
Oy Vator, Vator Oy AB. Helsinki (FIN)
Material
Wood, carvel planked
1st certificate issued
01-01-1964
Original boat name
Yankee
Original country
FIN
Original sail number
55
Current location
Chaje 3 L-26 : Chaje 3 in Helsinki 1967
(credits : Vator Archives)
Added by Matti Muoniovaara
on 2007-10-02
Photo Gallery (8)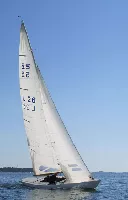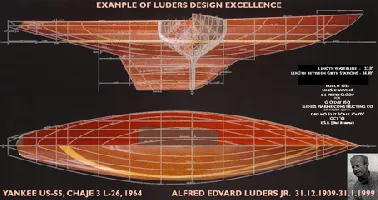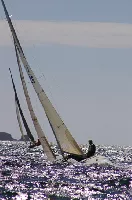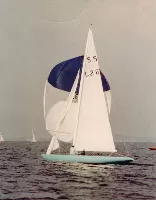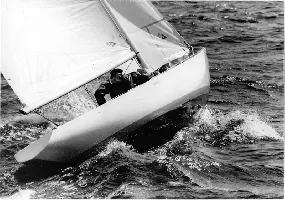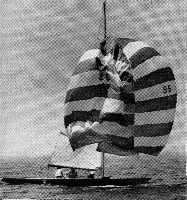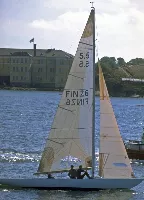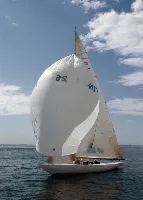 Notes (3)
1966 World Championship in Copenhagen
16-03-2017
The 1966 Worlds was a wild series sailed in very heavy air just about every day. I crewed for Britt Chance, and we were staying at the same guest house as the owner of Chaje 3. It sank during one of the races dragging Jussi Nemes son to the bottom until he got his foot freed from the rigging. Paul Elvstrom-- who had not competed in 5.5's before-- won the series easily.
Bill Luders - designer of champions
19-02-2016
Alfred Edward 'Bill' Luders Jr. 31.12.1909-31.1.1999. During 1950 – 1981 he designed 72 5.5s. The first US 5.5 was drafted already 1950 but was never built. First boats to be built in 1956 were Pathfinder (Herman Whiton), Sabre (Ernie Fay) and Flame (Al Fay). The last design built (#1098) was Delta for Ernest Fay. At the Luders Marine Construction Co's office many of the plans were made by Ted Brewer. He helped to draft and tweak over fifty 5.5 designs. Designs were numbered from the first to the last, 985-1098.
After studies with Bob Wallstrom, a Luders historian, we find following Luders champions: Flame, Sabre, Complex III, Pride, Barranjoey, Fram III, Sundance, Chaje 3, Southern Cross IV, Arunga, Antares 2, Arunga III, Wildfire, Rhapsody and Papilio.
Luders' designed boats won the Gold Cup 14 times, the first 1957 and the last 1981.
Information
19-09-2007
Vintage classic. Has sunk in Finland in 2005 but has been recovered and is on refit.
Document library (0)
Ownership history (5)
Sail#
Name
Owner
USA-55
"Yankee"
USA-55
"Yankee"
FIN-26
"Chaje 3"
FIN-26
"Chaje 3"
FIN-26
"Chaje 3"
Results History (20)
Year
Rank
Race / Location
Skipper
Added by, on
Links Library (0)