Boat details
(n°140)
Boat details
(n°140)
SWE-30
Essentials
Designers
Einar Ohlson (SWE)
Carl-Eric Ohlson (SWE)
Builder
Oscar Schelin, Kungsörs Båtvarv AB (SWE)
Material
Mahogany, carvel planked
1st certificate issued
16-05-1960
Original boat name
Rush VI
Original country
SWE
Original sail number
30
Current location
Berlin-Karolinenhof (WSV 1921), Langer See (GER)
5.5 GER 111 "Rush VI" - arriving at WSV 1921 : Having travelled far, from Helsinki
(credits : J. Sonntag)
Added by Kaspar Stubenrauch
on 2020-06-24
Photo Gallery (22)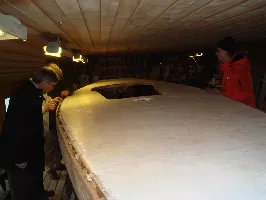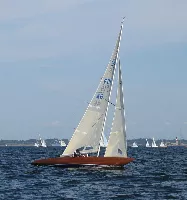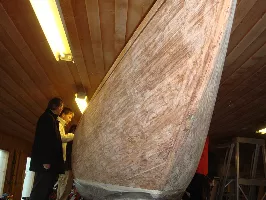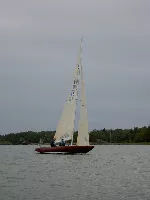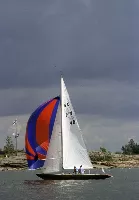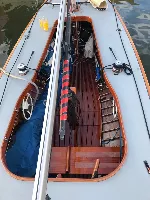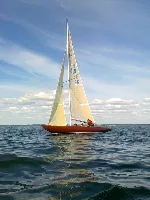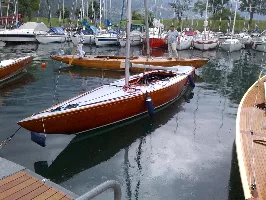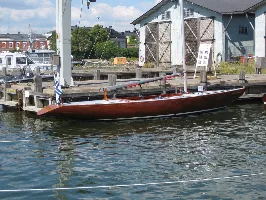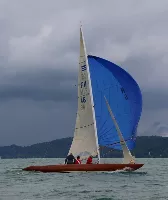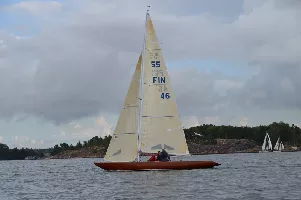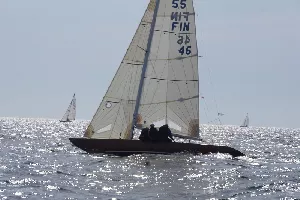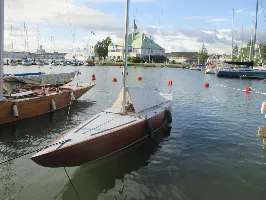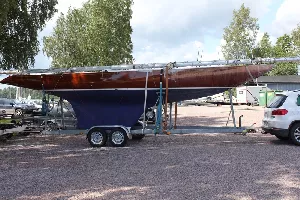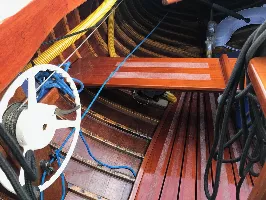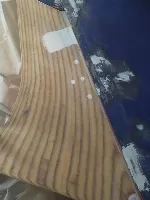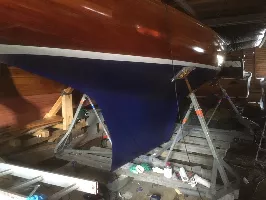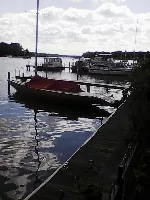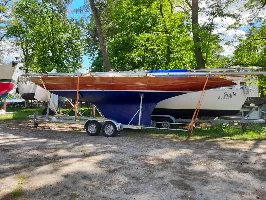 Notes (3)
Rush Vl - several shapes during the years
10-10-2008
Rush Vl was designed for the swedish 1956 olympic winner, Lars Thörn and the goal was to continue the good performance in the 'Rome' olympics in Napoli in 1960, but she did not qualify to become the swedish representative. Shortly thereafter, Rush Vl was sold, prolonged by some 20 centimetres at Kungsörs båtvarv and changed name to Yoga. Under that name she took succesfully part in several regattas in Sweden and also attended the centennial regatta of NJK in Finland. In the 1970's the decklayout was changed twice and caps were built in order to make her more suitable for cruising and family sailing in the swedish archipelago. I bought Rush in may 2002 and sailed her from Vaxholm to Finland. It was a challenging trip, as she had a heavy leakage and the electric pump was out of order.. In 2003, 2004 and in 2008 different types of renovation have been made and the condition can now be classified as very good.
Yoga
08-03-2008
First name of Rinman is Anders.
Information
19-09-2007
Document library (3)
Document
Size
By / When
654 Kb
654 Kb
730 Kb
730 Kb
59 Kb
59 Kb
Ownership history (7)
Sail#
Name
Owner
SWE-30
"Rush VI"
SWE-30
"Yoga"
SWE-30
"Rush Vl"
SWE-30
"Rush Vl"
SWE-30
"Rush Vl"
FIN-46
"Rush Vl"
GER-111
"Rush VI"
Results History (4)
Year
Rank
Race / Location
Skipper
Added by, on
Links Library (2)