Boat details
(n°138)
Boat details
(n°138)
SWE-19
Essentials
Designers
Einar Ohlson (SWE)
Carl-Eric Ohlson (SWE)
Builder
Gustav Karlsson, Bröderna Karlsson & Söner, aka Svinevikens Båtvarv, Orust (SWE)
Material
Honduras mahogany, carvel planked, ash ribs
1st certificate issued
01-01-1953
Original boat name
Lotten
Original country
SWE
Original sail number
19
Current location
Lahti, Vesijärvi (FIN)
5.5 FIN 51 "Lotten" - downwind : Spinnaker pleasure
(credits : R. Juhonen)
Added by Kaspar Stubenrauch
on 2020-11-01
Photo Gallery (26)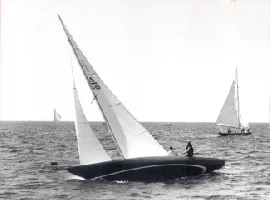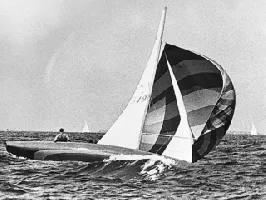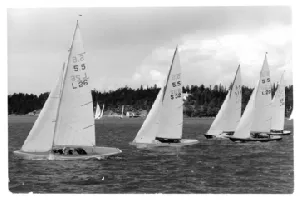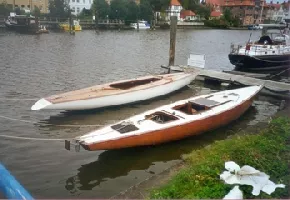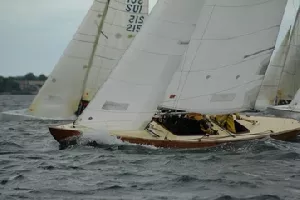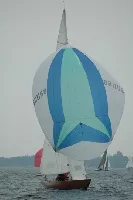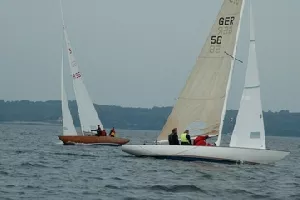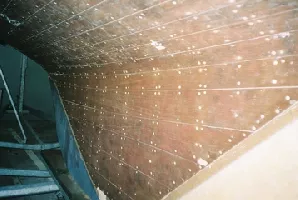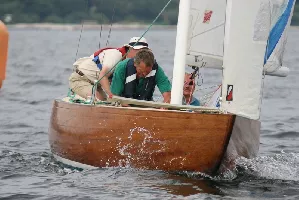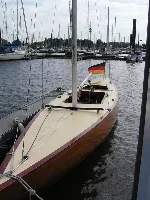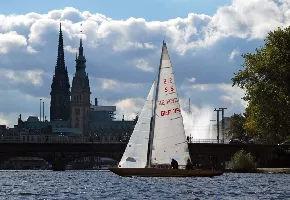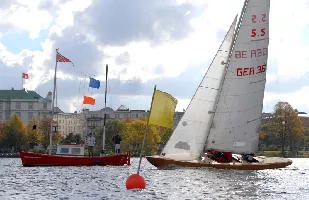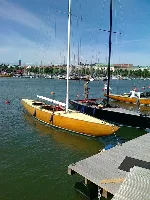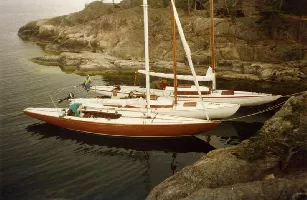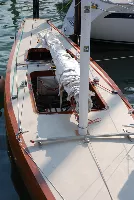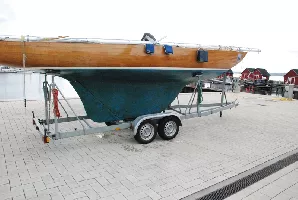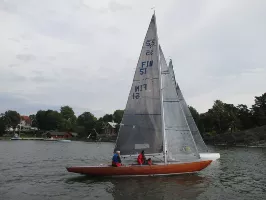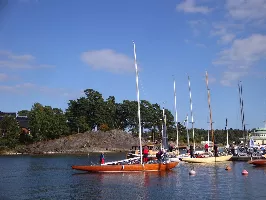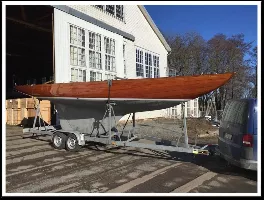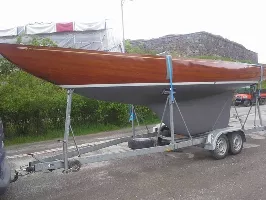 Notes (11)
Remembering Lotten...
20-02-2017
Not much has been added since my last note - nothing actually. Therefore let me add new comments on S/Y Lotten.

The previous owners told us about the first picture showing Lotten with the narration "Marstrand Regatta" dated 1956. It supposedly shows Lotten sailing a major competition (WC) outside Sandhamn in 1953 - not Marstrand! I once found the results online. She ended among the last contestants. She has a flatish bottom and therefore she never was competitive upwind. The flat bottom was also the reason that she was uncomfortable as a "camping vehicle". It made the cockpit space low beneath the boom.

She was in excellent condition during our ownership. The ash ribs and the mahogany freeboard were as new. Regret some changes made later to the open cockpit. Although somewhat understandable as it often got damp inside. I wonder why the excellent backstay system was removed? It was the best I've seen and made her easy to manage single handed. We sailed around a bit - to Finland and touched the southern parts of Sweden. However, Lotten was probably more suited, maybe even the perfect vessel for a day of pleasure sailing.
SY LOTTEN SWE-019
27-08-2012
This is somewhat a test and my first posting.

I co-owned SY Lotten three sailing seasons 1982-84. She was purchased from two young brothers with surname Björk (i think). They were very skilled and competitive sailors who wanted to move into a different class of sailboats. They eventually bought a 5O5.

They perceived Lotten as not fast enough to compete with new designes of R5.5. I remember her well and saw her last time about 1996 when she was for sale at Bosö yacht club on Lidingö, outside Stockholm. A gentleman who actually worked at the Bosö wharf took very good care of her. Actually regret very much not buying her back.

Well, if this test works out well I might even come back and post more... hehe
/Günther Dums


Lotten got a new sail number
21-08-2010
SWE-019 Lotten has a new sail number, FIN-51.
The boat arrived to Helsinki, Finland the 13th of June.
More
Document library (1)
Document
Size
By / When
170 Kb
170 Kb
Ownership history (13)
Sail#
Name
Owner
SWE-19
"Lotten"
SWE-19
"Lotten"
SWE-19
"Lotten"
SWE-19
"Lotten"
SWE-19
"Lotten"
SWE-19
"Lotten"
SWE-19
"Lotten"
SWE-19
"Lotten"
SWE-19
"Lotten"
SWE-19
"Lotten"
GER-36
"Lotten"
FIN-51
"Lotten"
FIN-51
"Lotten"
Results History (1)
Year
Rank
Race / Location
Skipper
Added by, on
Links Library (2)